Matt Kivel


Days Of Being Wild
Woodsist Records [2014]



Fire Note Says: Floating on a gorgeous ocean of reverb, Days of Being Wild is an unquestionable success!
Album Review: Matt Kivel is a difficult artist to get, but difficult in the way that someone like Bon Iver was when For Emma, Forever Ago was released. You can't necessarily make out what it is that he is singing about, it is buried in an a gorgeous ocean of reverb and delay, but you can tell he means it, there is feeling and passion behind it, and that feeling comes across in spades, even if you aren't exactly sure what it is you are feeling, the introspection and melancholia is easily apparent, but the question is why, and to you as a listener, does it matter? Is it enough just to have that feeling come across? It certainly is more than enough for me, and for that reason, Days of Being Wild is an unquestionable success.
The album opener, "The First Time" opens the album on a mellow note. It's a gentle acoustic number, pleasant, but completely forgettable. It's nice, but doesn't necessarily sound like the rest of the album. It doesn't really set the table for the rest of the meal in my opinion, but the album gets much better from here. "Underwater" does a great job of raising it up a notch and getting the album back on track, a track it maintains throughout the course of the album. "Underwater" adds electric guitar and drums to the mix, and the echo-y vocals are the perfect match for the music. The music ebbs and flows, with the touches of electric guitar accentuating that, creating a wavelike feeling. "A Couple Hours" loses the drums, it's a guitar and vocal mood piece, and simply stunning. It's haunting and sublime, and one to listen to over and over. Several songs, including "Insignificance" and "You and I Only" have a major War on Drugs vibe, and if you are familiar at all with their excellent album Lost in the Dream, you know that this can only be a good thing, and believe me it is. In fact, I would go so far as to say if you love that album, there is no way you wouldn't like Days of Being Wild. Though the messenger is different, the message they deliver is of remarkably similar quality.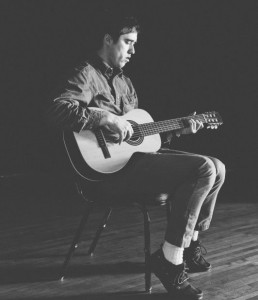 Any introspective album is going to require a little bit of work for the listener to fully absorb. This is not challenging music to your ear, but it does require a few listens for it to fully open it's sonic riches to your ears. I recommend this one. Matt Kivel is an artist to keep an eye on for sure!
Key Tracks: "Underwater" / "You and Only I" / "A Couple Hours"
Artists With Similar Fire: The War on Drugs / Bon Iver / T. Hardy Morris

Matt Kivel Website
Matt Kivel Facebook
Woodsist Records
– Reviewed by Kevin Poindexter
Latest posts by Kevin Poindexter
(see all)