Yonatan Gat


Iberian Passage
Joyful Noise Recordings [2014]



Fire Note Says: Iberian Passage is light on quantity but full of (mostly) instrumental psych-guitar freakouts!
Album Review: If you're like me (and you probably are in this respect), you've never heard of Yonatan Gat. The Tel-Aviv-born New Yorker is guitarist for the band Monotonix (who have released two albums on Drag City), and Iberian Passage, a twenty-minute EP, is his first solo release. The result of a collaboration between Gat and Portuguese drummer/percussionist Igor Domingues, who Gat met after watching the latter perform at a Portuguese music festival, Iberian Passage is a short but fun excursion across the globe, blending heavy psychedelic guitar work with influences from South America, Africa, Europe and everywhere in between.
Gat claims he was inspired by Brazilian psychedelic/tropicália pioneers Os Mutantes, and you can definitely hear their influence in Gat's guitar work and especially in the general "spirit" of the EP. Freeform, unhinged creativity is the order of the day on Iberian Passage, and even if he never gets quite as colorfully wild as the Mutantes did, the attempt is commendable. Tracks like "Conga Manteca" and blistering opener "Escorpião" recall the off-kilter, Latin-tinged psych pop of Os Mutantes, though Gat's approach is primarily instrumental—some Portuguese lyrics appear on "Escorpião," some English on closer "Bordeo," but the focus is on Gat's guitar work. With a tone that fits somewhere between Jimi Hendrix and Carlos Santana, Gat's playing is impressive enough to carry the tracks on its own for the most part—in other words, you barely miss the lack of vocals.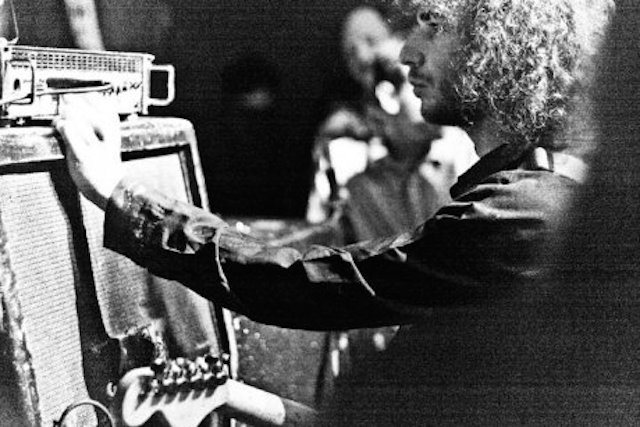 While Iberian Passage may be short length-wise, it covers a lot of ground over its six tracks. The sequencing has a natural ebb and flow, full of manic energy one minute and mellow grooves the next. Whether it's the lengthy, somewhat bluesy fury of "Seven to Seven" or the incendiary Omar Rodriguez-Lopez style hypnotic jamming of "Kotonou," the album flies by without much opportunity for duds. Unfortunately, this is also the main weakness of Iberian Passage; at barely twenty minutes long, it feels like a teaser, a promising start that isn't quite fully developed. That feeling is reinforced by the constant shifting tones: guitar acrobatics melt into percussion-heavy keyboard grooves, juxtaposed with ambient sound collages and field recordings—it would be a lot to take in over two LP sides, let alone in a twenty-minute EP.
But even with its shortcomings, Iberian Passage is worth checking out. It's only a start, but it's admirable one especially considering that Gat played and produced everything (except the drums) himself, and it leaves you—as all worthwhile beginnings do—wanting more. It's unclear whether or not Domingues will continue to work with Gat on his solo recordings, but I for one hope this isn't the last we hear from this duo. The two really do compliment one another, their styles meshing almost effortlessly—let's hope Iberian Passage is just the warm up for future musical alliances between them.
Key Tracks: "Escorpião" / "Kotonou" / "Seven to Seven"
Artists With Similar Fire: Omar Rodriguez-Lopez / Os Mutantes / The Jimi Hendrix Experience

Yonatan Gat Website
Yonatan Gat Facebook
Joyful Noise Recordings 

-Reviewed by Simon Workman
Latest posts by Simon Workman
(see all)