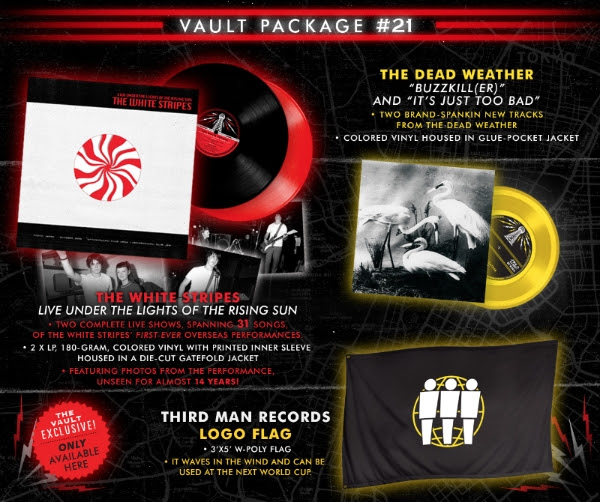 I can't believe that Third Man's vault is up to number 21. This package once again looks like a keeper!
The 7-inch for this go-round is another two song pairing from Dead Weather. THESE ARE TWO NEW ORIGINAL TRACKS…DEBUTING ON VINYL EXCLUSIVELY FOR VAULT MEMBERS! Pressed on pretty golden vinyl, the tracks are "Buzzkill(er)" and "It's Just Too Bad."
The LP for Vault #21 is a release unrelated to new albums or anniversaries or anything of that sort. The White Stripes Live Under The Lights Of The Rising Sun showcases Jack and Meg in their first overseas trip in October 2000. This double LP contains the entirety of the the White Stripes' two Tokyo performances. With an on-mic shout-out to the evening's headliners the 5.6.7.8's, the Stripes would also cover that band's classic song "I Walk Like Jayne Mansfield" in an improvised medley that also included Screaming Lord Sutch's "Jack the Ripper." Other highlights from the two nights include a rare cover of Iggy Pop's "I'm Bored" as well as pre-White Blood Cells takes on "Dead Leaves and the Dirty Ground." Complete with unseen photos taken during one of the performances and a sneaky die-cut, gatefold jacket, this live document leaves nothing to be desired to even the most die-hard fanatic.
The third item is a 3ft by 5ft TMR rock and roll flag. This flag also comes with a contest. Once vault members have received their flags, they are encouraged to submit photos of the flag in different, unique states of display. The "best" photo, as arbitrarily decided by a team at Third Man, will receive test pressings of both the 7" and 12" discs from the Vault 21 package. Nice.
If you are note already a Vault member you can sign up HERE.

Latest posts by Christopher Anthony
(see all)