The Cleaners From Venus


Volume 3 (Box Set)
Captured Tracks [2014]




Fire Note Says: The third box set from The Cleaners From Venus is far and away the best one yet, and absolutely essential listening.
Album Review: Captured Tracks has now released their third box set from The Cleaners From Venus, the legendary lo-fi 80s popsters, and as good as the first two box sets were from head Cleaner Martin Newell and co, this one is by far the best of the three, and features some of the best Macca meets Partridge jangle pop that you are likely to ever hear. This particular box covers the tail end of the band's brilliant run including the albums, Living With Victoria Grey, Number Thirteen, My Back Wages, and the bonus disc, Extra Wages.
If I had to pick the best album of the band's career, I would probably pick Living With Victoria Grey. Not only is the jangle factor high, but the hit to miss ratio is off the charts, there isn't a bogus song on this one, they are all winners, from "Victoria Grey" to the fan favorite "Ilya Kuryakin Looked at Me" to the severly overlooked by the masses should have been hit "The Mercury Girl" The 60's pop influence runs strong throughout the album, as does the more contemporary influence of XTC, whose Andy Partridge would famously work with Newell a few years later on the masterpiece The Greatest Living Englishman. I had a hard time moving on to the other albums in the set, because this one is so perfect, that I want to listen to it on an endless loop, but we have a lot of ground to cover, so I will push on!
Number Thirteen is nearly as impressive as its predecessor, and I would be willing to listen to anyone who wanted to argue that it is Living With Victoria Grey's equal. It's certainly close, perhaps too close to call, but I still lean towards the former. "The Jangling Man" certainly sets the tune right off the bat, in fact, this song would later appear in a higher fidelity version on the aforementioned Newell solo record, as would a few other songs from this album, ""A Street Called Prospect" and "Christmas in Suburbia". While all three are certainly excellent in their lower fi home recording versions on Number Thirteen, there is no denying that the version on The Greatest Living Englishman are superior. The hits just keep running on this record as well, "Man For Our Time" and "The Tear Collector" are a few more standouts from the album, which honestly is full of standouts.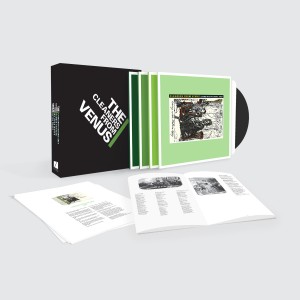 My Back Wages is an album I hadn't really heard much about, and as such, it totally exceeded my expectations in every way. It's a treasure trove of lo fi goodness, and to think that there isn't much written about this album even amongst Cleaners fans, goes a long way towards showing what a hidden gem of an album it truly is, amongst a whole back catalog of hidden treasures, this might be the most hidden, and as such, the most exciting to listen to. While certainly not the best album in this set, it certainly ranks higher than anything on the first box set, and most of the second set. "Stay Lit", "Smash Yore Watch" and 'You Should Have Called" would easily find their way on any best of Cleaners of Venus mix cd that I would make. The tracks on Extra Wages are a nice bonus to have, but much like the bonus disc from the second box set, I haven't found myself playing it as often as the proper album. I think the reason for that is because even though they are fine songs, they just don't flow as well as the album. I do like the idea of having them all on one album, so that they don't mess with the impeccable sequencing of the other albums, particularly My Back Wages, which many of these tracks were leftovers from.
I have thoroughly enjoyed reviewing all three Cleaners From Venus Box Sets, and while I feel like they are all essential, this one is the most essential of the three, and the one to get if you can only get one. This one goes a long way towards showing exactly why this band is so highly regarded, even though their music was so hard to track down. Well, Captured Tracks has eliminated that problem, now it's up to you to do the rest. Go get this now!
Key Tracks: "The Jangling Man"/ "Victoria Grey"/ "The Mercury Girl"
Artists With Similar Fire: Robyn Hitchcock / XTC / Television Personalities

Captured Tracks
– Reviewed by Kevin Poindexter
Latest posts by Kevin Poindexter
(see all)