The Antlers


Familiars
ANTI- [2014]



Fire Note Says: The Antlers' Familiars is another beautiful, thought provoking experience.
Album Review: The Antlers' fifth studio album, Familiars, continues with the band's moody, dreamy musings. The Brooklyn-based band, led by Peter Silberman with support from Michael Lerner and Darby Cicci, has often dealt with deep, heavy themes in their music. Hospice was one of my favorite albums of 2009 and Familiars builds on that legacy.
When you first listen to Familiars you will notice that is subdued. Lazy horns and guitar punctuate most of the songs and the percussion blends into the sonicscape. As a whole the album works well as it sticks to this motif throughout. The Antlers haven't made a collection of singles but rather something that you need to listen to front to back to truly appreciate. For us lovers of albums out there this is a treat.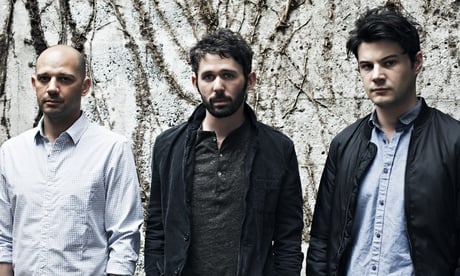 However, there is nothing that markedly stands out because of the album's cohesiveness. "Bear" was the highlight of Hospice for me, but I can't pick out the one moment that swept me up on this LP. "Hotels" is the single that the band has selected to represent Familiars, and it does an admirable job as such. I can't imagine that many people getting excited about the album based on this one track though. It's a shame because this is a beautiful piece of work.
Silberman has a preternatural gift to convey longing and despair through his voice and its loveliness is on point during the album's 53+ minutes. At only nine tracks each song gets a chance to invite you in, have a meaningful conversation, and then bid you goodbye. That's the strength of The Antlers and I'm happy that they haven't lost that edge. It's almost overdone here and I'd love to hear the band put together another anthem. They've got the chops to do it; it would be great to get a taste of that the next time around.
Key Tracks: "Hotels" / "Doppelganger" / "Intruders"
Artists With Similar Fire: Bon Iver / Rhye / The National

The Antlers Website
The Antlers Facebook
ANTI-
-Reviewed by Matthew Heiner
Latest posts by Matthew Heiner
(see all)