Howler


World Of Joy
Rough Trade Records [2014]



Fire Note Says: Former buzz band takes a solid step forward from their debut on World of Joy.
Album Review: Howler was a bit of a buzz band a few years ago when their debut album America Give Up was released. It was a tasty slice of rock equally influenced by The Strokes and The Ramones, you can't go wrong there, right? Fast forward a few years and Howler has dropped World of Joy on us with considerably less buzz, but the results are more satisfying than the debut. While the hooks remain strong, the songs are a lot looser and grimier, and all the better for it!
World of Joy adds a whole lot of" I don't give a shit" attitude that makes the record seem more dangerous than their debut. It has a razor sharp edge that the debut was lacking. Where America Give Up sounds like an homage to their influences, World of Joy sounds like the work of a band who is confident and ready to kick your ass at a moment's notice. "Al's Corral" gets things started off in rousing fashion, the vocals snarl at you and the guitars slice your ears open, leaving you saying "oh hell yeah" to yourself. The intensity doesn't drop off at all on "Drip", in fact, it goes up a notch. This is The Ramones on as much speed as humanly possible, with a touch of The Damned thrown in for good measure and to give it character. Even though I think all of the rockers on the album are totally solid, it's the slower song "Here's The Itch That Creeps Through My Skull" that gets my vote for finest track on the album. It still has all of the attitude of the fast songs, but dare I say it introduces some sensitivity to the band, and goes a long way towards establishing Howler as a band with its own identifiable sound rather than a band that you can play spot the influences with.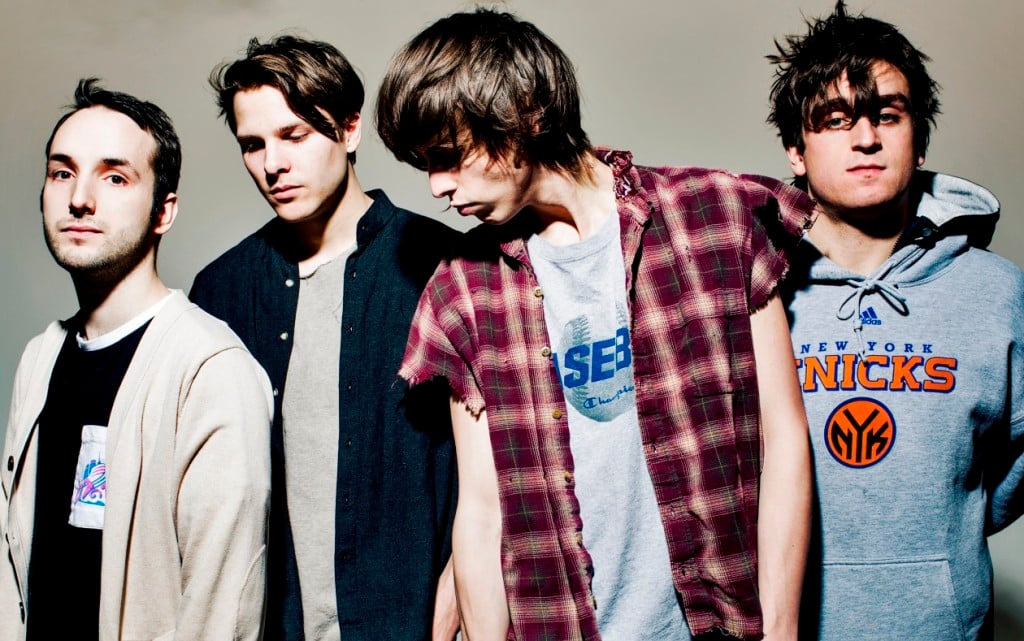 The first half of World of Joy is jam packed with pop infused garage rock songs, whereas the second half of the record finds the band stretching their sound a bit, and finding their footing on some slower paced songs as mentioned earlier, and even some dronier songs, like the title track, which locks into a nice stoner groove and massages your neurons into pure ear ecstasy. This album is an improvement on their debut album, and shows that Howler certainly has some serious potential and is definitely worth keeping an eye on.
Key Tracks: "Here's The Itch That Creeps Through My Skull" / "Al's Corral" / "World of Joy"
Artists With Similar Fire: The Strokes / Palma Violets / White Denim
Howler Website
Howler Facebook
Rough Trade Records
– Reviewed by Kevin Poindexter
Latest posts by Kevin Poindexter
(see all)