Owen Pallett


In Conflict
Domino Records [2014]



Fire Note Says: Owen Pallett makes an interesting and at times profound statement with In Conflict.
Album Review: Owen Pallett's fourth album (and second under his actual name) is a challenge. Pallett has a vision for In Conflict that didn't cater to this listener at first. Quite honestly, I was not impressed and was mentally moving on to my next project. However, there was enough to intrigue me and coerce me to listen more. It wasn't until the fifth listen that I began to fall in line with Pallett's voice, but when I did it clicked. Maybe this is a form of musical brainwashing (earwashing?) but I'm glad I followed the instinct to dive deeper into In Conflict.
Pallett spends the majority of this album using a minimalist approach: it's quite normal to just hear Pallett's voice, synthesizer, and intermittent percussion on the first 8-9 tracks. There aren't many hooks to be found. The experience of listening to In Conflict is dreamlike and hypnotic, and then Pallett snaps you out of that fog with an outstanding finish to the album. Opening track "I Am Not Afraid" will be all that's necessary to determine if you should give the rest of the album a chance. With that aforementioned synthesizer and repeating strings Pallett waxes philosophical with his sweet voice. If "I Am Not Afraid" at least interests you, keep playing. You don't even have to like it – just have your curiosity piqued.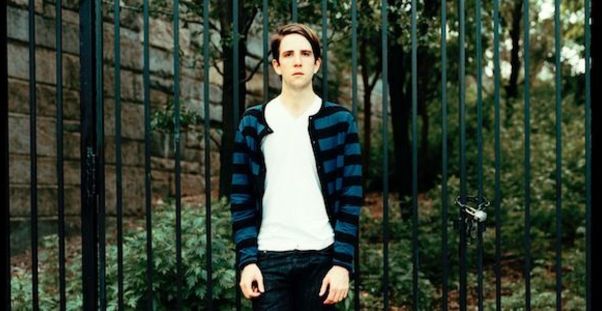 About that finish: "The Riverbed" completely changes the format of the album with an intense electronic beat. After the mellow preceding tracks, this song took my breath away. The themes of loss and growing older of course resonate with a sense of urgency. However Pallett could have been singing about vacuuming and I still would have found the song fascinating. He follows up "The Riverbed" with "Infernal Fantasy," which starts with another loopy electronic beat. It sounds like the album has returned to form but then it builds to a crescendo and chanting refrain. These two tracks surely are palette cleansers (see what I did there – yeah, I am not proud).
I really enjoyed Owen Pallett's official debut under his own name and have found his follow-up to be even more compelling. It takes a while to get in the proper headspace that the artist demands in order to appreciate his record, but once you're there it all begins to make sense. If you feel like exploring something new or different and that isn't immediately accessible, In Conflict would be a great choice.
Key Tracks: "The Riverbed" / "Infernal Fantasy" / "I Am Not Afraid"
Artists With Similar Fire: Arcade Fire / Damien Jurado / Sufjan Stevens

Owen Pallett Website
Owen Pallett Facebook
Domino Records
-Reviewed by Matthew Heiner
Latest posts by Matthew Heiner
(see all)