Death Cab For Cutie


Live 2012 (Featuring Magik*Magik Orchestra)
Barsuk Records [2014]



Fire Note Says: A solid set list and effective orchestration makes Live 2012 worth hearing.
Album Review: While their studio albums have always been produced in ways that are sympathetic to their half-somber/half-optimistic indie-emo stylings, Death Cab For Cutie have never been a "must-see" live act—not in my frame of reference, anyway. It's not that they're supposed to be bad, but they don't exactly rock out like GBV or do long-form improvisation a la the Grateful Dead or Phish, nor do they drastically revamp and transform their songs for a live context like Bob Dylan or—considering their own RSD release this year—Tame Impala. So what's the deal with this album, then?
In 2012, Death Cab took the Magik*Magik orchestra with them on tour, a self-proclaimed "made-to-order orchestra for artists and creatives." Adding orchestral backing to Death Cab's tunes could have been disastrous, but instead the results are actually pretty interesting. Rather than re-casting the songs as "symphonic rock" numbers, Magik*Magik Orchestra instead add subtle, at times almost ambient backing to a diverse set list that spans from Death Cab's most recent album (2011's Codes and Keys) all the way back to their 1997 debut You Can Play These Songs With Chords. While the band's core renditions of these songs don't vary too widely from their studio counterparts, the orchestral textures at play—especially the string arrangements, which is most of what you hear from Magik*Magik on this album—give the songs a more cinematic, expansive feel that works pretty well.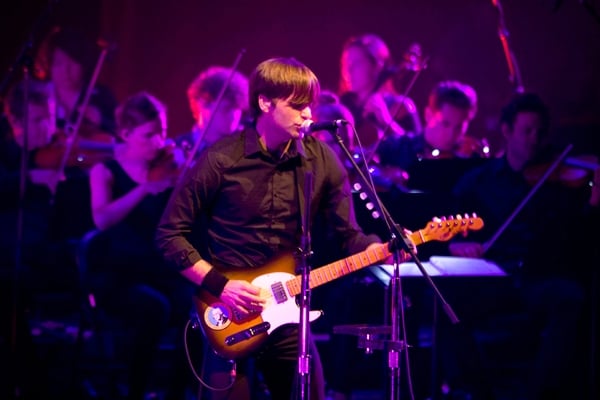 The one non-Death Cab track here, "Magik Overture," sets the mood nicely as waves of strings float in and out of each other before fading into "Passenger Seat." That track segues perfectly into "Different Names for the Same Thing," which is where Magik*Magik gets to show some of its symphonic flair, especially on the outro where their accompaniment builds to a satisfying climax. The collaboration works best on the band's sparser tracks: "I Will Follow You Into The Dark," "What Sarah Said," and especially "Transatlanticism" (as well as "Passenger Seat" and "Different Names") all work well. Some of the band's more energetic moments are also effective, though; "Grapevine Fires" has some interesting interplay going on, and "A Movie Script Ending" gets an effective reimagining as well.
There's nothing here that is going to give Death Cab the reputation of a "great live act," but if one wanted to release a Death Cab live album this tour sounds like the right one to choose based on the results. And even though it's missing a few of their biggest songs ("Title and Registration," "Soul Meets Body"), it might also work well as a sort of "greatest hits" compilation since it covers their entire career and flows fairly well to boot. Live 2012 will probably be viewed in hindsight as more of a curiosity than anything else, but it's a satisfying curiosity that fans of the band and even the right kind of newcomer can enjoy if they come across a copy. (Live 2012 was released on Record Store Day 2014 as a vinyl-only gatefold double-LP.)
Key Tracks: "Different Names for the Same Thing" / "A Movie Script Ending" / "Grapevine Fires"
Artists With Similar Fire: Rogue Wave / Bright Eyes / Two Door Cinema Club

Death Cab For Cutie Website
Death Cab For Cutie Facebook
Barsuk Records

-Reviewed by Simon Workman
Latest posts by Simon Workman
(see all)