R.E.M.


Unplugged: 1991 & 2001 – The Complete Sessions
Rhino Records [2014]



Fire Note Says: Listen to a band at some
of its highs with this unplugged collection.
Album Review: To commemorate Record Store Day 2014, Rhino released a four-LP collection of R.E.M.'s two MTV Unplugged performances. These took place in 1991 and 2001 and a lot happened in those ten years for the band. 1991 was the year Out of Time was released, which would be followed up the next year with the band's seminal album Automatic For The People. The 1991 concert captures an ascendant band that was about to hit its apex in the popular culture. In the following ten years R.E.M. released five albums and lost Bill Berry, their long-time drummer. Stipe, Mills, and Buck settled into the veteran rock band routine and failed to recapture the magic of their music from 1987 to 1992. So you'd think that the gem here would be the 1991 part of this collection. You'd be wrong.
The tracklist is surprisingly robust with a total of 33 songs. Deep cuts like "Disturbance at the Heron House" and "Sad Professor" make appearances. The 1991 Unplugged concert did not stick to an Out of Time redux, but rather includes tracks from their first album Murmur ("Perfect Circle"); Document and Green are well-represented too. Tracks not included on previous albums like "Fretless" and "Rotary 11" also show up. These latter two songs stand out from this performance because of their novelty to a long-time listener of R.E.M. "Fretless" has the trademark R.E.M. emotionality that comes through well in this format. "World Leader Pretend" concludes the first concert on a high note – I gained a new appreciation for this track after hearing this rendition.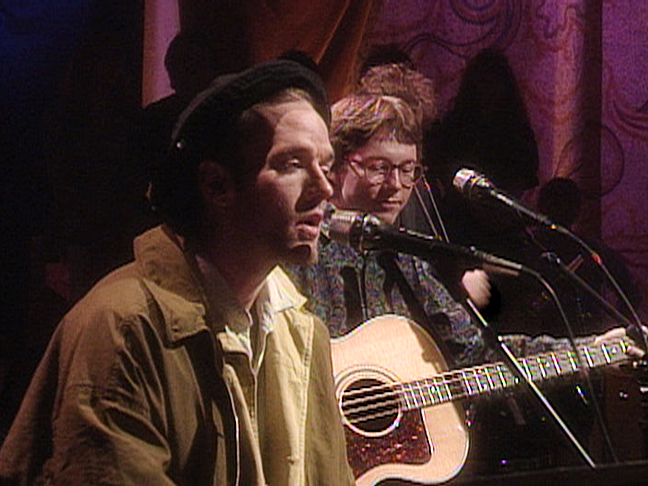 Ah, but the 2001 concert shines in comparison to its somewhat dull predecessor. "Losing My Religion" finds itself as a part of both performances, but the latter version is just plain better. You would think that after 10 years of playing the damn song the guys would grow tired of it but this acoustic version crackles with life. It's more straightforward and that plays to the song's inherent strengths. Hidden on Out of Time is another quality deep cut by the name of "Country Feedback." I have a feeling this may be a divisive R.E.M. track but it's one of my favorites. It immediately follows "Losing My Religion" on the setlist and the one-two stomach punch of these songs is undeniable. It's ironic that the climax of the 2001 show are two tracks from Out of Time. Some of R.E.M.'s later work also works well with the acoustic treatment, including "Daysleeper" and "I'll Take The Rain."
As an unabashed R.E.M. aficionado this unplugged collection is a very nice bonus but sadly not a must-have. It rounds out the band's catalog but doesn't serve as a foundational piece. The band's softer sounds, particularly on Out of Time, make the acoustic sets not all that different from the studio recordings. And the hand drums (and accompanying tropical feel) just seem more out of place on the first set than on the second. That being said, it was great to take a trip down memory lane and look back on the first 20 years of one of the most influential rock groups of all time.
Key Tracks: "Losing My Religion," "Country Feedback," "World Leader Pretend," "Daysleeper," "Fretless"
Artists With Similar Fire: U2 / Wilco / Deerhunter

R.E.M. Website
R.E.M. Facebook
Rhino Records
-Reviewed by Matthew Heiner
Latest posts by Matthew Heiner
(see all)