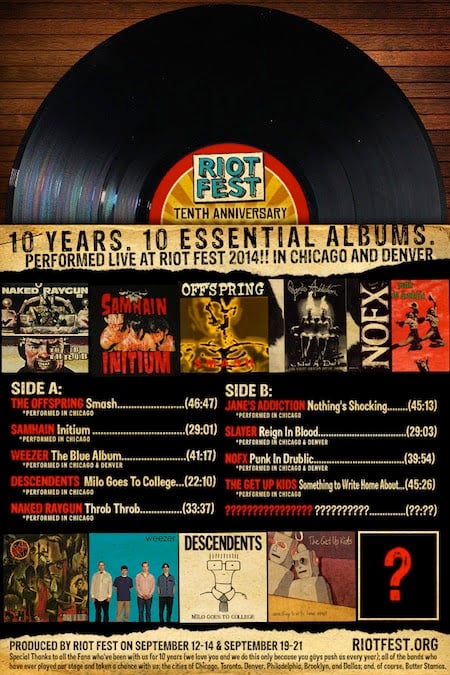 On the heels of announcing Riot Fest in three cities within the past week (Toronto, Chicago and Denver), organizers have released the first big surprise in celebration of Riot Fest's 10th Anniversary, entitled "10 Years. 10 Essential Albums."
To help celebrate Riot Fest's 10th Anniversary, ten bands have joined in to play their seminal albums either at Riot Fest in Chicago or in both Denver and Chicago. Nine of the bands have been released today:
Jane's Addiction: Nothing's Shocking (Chicago)
The Offspring: Smash (Chicago)
Weezer: "The Blue Album" (Chicago & Denver)
Slayer: Reign in Blood (Chicago & Denver)
Samhain: Initium (Chicago)
NOFX: Punk In Drublic (Chicago & Denver)
Descendents: Milo Goes To College (Chicago)
Naked Raygun: Throb Throb (Chicago)
The Get Up Kids: Something To Write Home About (Chicago)
There is one more album organizers are holding close to their chests, but have promised to unveil it in a separate announcement in the upcoming weeks, as well as additional 10th Anniversary surprises. We are hoping for GBV and Bee Thousand but that is just us!
Latest posts by Christopher Anthony
(see all)