The Strypes


Snapshot
Virgin EMI Records [2014]




Fire Note Says: The Strypes show that age means nothing on contagious debut!
Album Review: Every now and then you run across a new band whose debut is so strong that you want to remember the first time you heard them. First time, many of us heard The Strypes was when some posted a clip of the band playing "What A Shame" on The Late Show With David Letterman" on a Facebook post. I clicked the link on my iPhone, but about 30 seconds in I jumped up and pulled it up on the home computer so it had better audio.
The mix of Beatlesque harmony vocals, crisp, punchy guitars, and an amazing youthful energy was so contagious that Dave jumped out of his chair as the song ended and hooted and hollered before announcing that he'd told the band earlier that "if it went well we'd all go out for laser tag." That last crack points to the fact that this Irish quartet are all under 20, but the overall exuberance was from the performance itself and the shock that comes from watching such fresh faced youths dig into a time honored tradition with such skill and gusto.
But spin Snapshot a few times and you realize that these Strypes, while taking their cues from the early Beatles, like Liverpool Fab Four, have gone back to the old rhythm and blues that inspired them and The Stones, The Animals, The Yardbirds and the like. As if to prove their bona fides, The Strypes sprinkle a few blues classics throughout Snapshot. They do a fast swinging version of Willie Dixon's "You Can't Judge a Book by Its Cover;" a rocking Stonesy take on "I Can Tell," which had notable covers by Bo Diddley and Dr. Feelgood;" a fast and brawling version of "Rollin' and Tumblin'," which goes back to Muddy Waters, and possibly all the way back to Robert Johnson; and, a cover of Nick Lowe's "Heart of the City" which is so fast it feels like it might burst at the seams.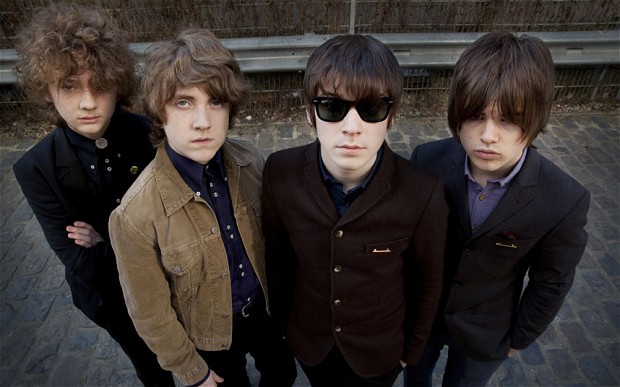 But before you dismiss these young pups as mere blues archivists, check out that energy again, owing more to 80's punk than to 60's pop/rock, and notice the exceptional musicianship from guitarist Josh McClorey, the soulful harmonica riffs that show up in a handful of songs, played by singer Ross Farrelly, the wicked fun base-lines of Pete O'Hanlon (who may think he's still playing lead guitar), and the relentless propulsion of drummer Evan Walsh.
While the music in the originals stands strongly beside their covers, the lyrics for the most part are the usual teen bluster: "Mystery Man," "Blue Collar Jane," "Hometown Girls" and the like. But on a few things, they reveal signs of real promise, like "What the People Don't See," "What a Shame" and this great line from "She's So Fine:" "She float like a bee but she sting like a butterfly." Makes you wonder what a treat it might be to watch these pups grow into their paws.
Key Tracks: "What a Shame" / "What the People Don't See" / "You Can't Judge a Book By The Cover"
Artists With Similar Fire: The Beatles / The Rolling Stones / The Yardbirds

The Strypes Website
The Strypes Facebook
Virgin EMI Records
– Reviewed by Brian Q. Newcomb
Latest posts by Brian Q. Newcomb
(see all)