Lykke Li


I Never Learn
Atlantic Records [2014]




Fire Note Says: Lykke Li's third album is not only her best yet but also one of the top break up records released this decade.
Album Review: There is nothing like a good breakup record. Time and time again these type of heart driven albums make for some great listening because I think everyone in the world can identify with the emotion. It is that gut wrenching feeling that drops you to the ground and just sits there like a heavy weight. This type of emotion has made some great albums in the past like Beck's Sea Change [2002], The Cure's Disintegration [1989], Spiritualized's Ladies and Gentlemen We are Floating in Space [1997] and the relationship story trainwreck that is Liz Phair's Exile in Guyville [1993]. The best part of those records is that I am sure you can name great songs off each album but when you dissect them they can be depressing as hell.
That leads us to the new break up record on the block from Swedish singer-songwriter Lykke Li titled I Never Learn. It is the indie-pop songstress' third LP and her best to date. Right from the opening acoustic guitar driven title track you get confronted with her pain in an absolutely ear opening sonic experience. Her voice is pure but layered as it floats along and delivers this message: "I'm right here I'm your star crossed lover; I lie here like a starless lover; I'll die here as your phantom lover; I never learn." The next track, "No Rest For The Wicked" has more line stopping moments when Li tells you "I let my good one down; I let my true love die; I had his heart but I broke it everytime." This song highlights that it takes more than just lyrics to win you over as the track's sonic march and big chorus shine some light through the dark moments that this tale weaves.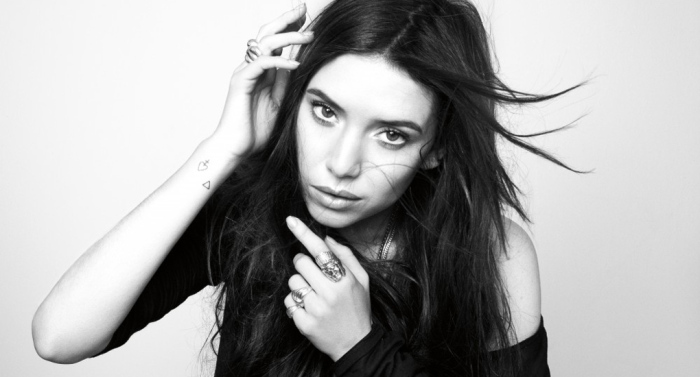 I Never Learn may sound like it will drive you into some dark corner but its balance of using Li's stunning voice with simple instrumentation pulls the listener in closer. When she sings "even though it hurts baby" on "Love Me Like I'm Not Made Of Stone" her voice sounds completely fragile but held together by some glue that simply won't break. That is the underlining outcome and message that hits you here that no matter how awful it gets you will emerge. This record wraps around you like your favorite blanket and covers you like a pleasant warm rain. I will fully admit that Lykke Li's indie-pop is not my typical style or listening taste but it only took the first breathtaking 45 seconds to win me over. It is a powerful statement on life that is captured in a very listenable 33 minutes that will easily place I Never Learn into our top albums of the year list when 2014 comes to a conclusion.
Key Tracks: "No Rest For The Wicked", "Gunshot", "Love Me Like I'm Not Made Of Stone"
Artists With Similar Fire: The Concretes / Adele / Lyla Foy

Lykke Li Website
Lykke Li Facebook
Atlantic Records
– Reviewed by Christopher Anthony
Latest posts by Christopher Anthony
(see all)