Bobby Bare Jr.


Undefeated
Bloodshot Records [2014]



Fire Note Says: Undefeated is full of dark tales and nasty breakups, but laced with the wit and wisdom that only Bare can provide.
Album Review: I don't think I have ever instantly fallen in love with a Bobby Bare Jr album. I didn't instantly fall in love with his latest album, Undefeated either, but by now, I know this about his music: the wit, the intellect, the wordplay, the attitude, never sinks in on the first listen. It has to percolate in your brain, ferment a little if you will. Only then will you get the true meaning of his songs. At first glance he may seem like a bit of an oddball, he doesn't fit neatly into any pigeonhole. He's sort of alt country, he's a little roots rock, and he has punk attitude to spare. I realize that sounds like a million other acts, but Bare Jr has always been a cut above. I'll tell you why right here…it's because he is a great storyteller, but not in the traditional sense. There is no point a to point b in his songs, they bounce around, sometimes dodging the point all together and only revealing bits and pieces at a time. He is painting a picture with his words, but he uses his humor, and he is able to point that humor just as much at himself as he points it at anyone else. He comes across as a loveable loser at times, a smartass, but he's a tortured artist, there is a lot of pain in these songs, he is just painting his picture with a different set of colors than most artists.
Undefeated is an album about heartbreak. It's full of pain and self-loathing, and tells the tale of one man coming to grips with that and the whole range of emotions that come along for the ride. "If She Cared" illustrates this perfectly. Bare is out with another woman, and the whole time is thinking that he would rather be with the woman who really wants to be with, but she just doesn't give a shit one way or the other where he is, what he's doing or who he is doing it with. It's a lonely place to be, and a powerful realization. "Undefeated" takes the listener on another heart wrenching journey, and the ripping guitar solo absolutely will tear your guts out. Not only is it the finest song on the record, it's one of the finest of the year, seemingly pulling pathos, angst and torture out of thin air. "Blame Everybody (But Yourself)" features Bare's best vocal performance on the record and wraps its nasty message in a neat little Wilco style pop package. Also, a special shout out to "Don't Stand at the Stove" which has a krautrock feel with some ominous guitar and ethereal vocals over top of it. It's a fantastic track!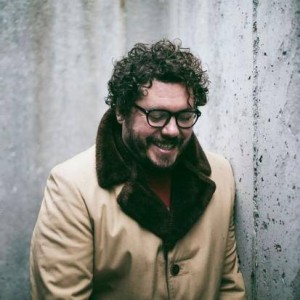 I'm wrestling with whether or not this is Bobby Bare Jr's finest album to date or not. I think I'm in the minority and like The Longest Meow the best out of all of them, but they have all been pretty outstanding, even going back to his early days in his band Bare Jr. Undefeated is certainly up there, and yeah it might just be his crowning achievement to date. Catch him on tour with the mighty Guided By Voices this summer, that is going to make for one helluva rowdy evening of entertainment!
Key Tracks: "If She Cared", "Undefeated", "Blame Everybody (But Yourself)"
Artists With Similar Fire: Drive-By Truckers / Wilco / Todd Snider

Bobby Bare Jr. Website
Bobby Bare Jr. Facebook
Bloodshot Records
– Reviewed by Kevin Poindexter
Latest posts by Kevin Poindexter
(see all)