Secret Colours


Positive Distractions Part I & II
Self-Released [2014]



Fire Note Says: Secret Colours remain consistent on their two EP split.
Album Review: Secret Colours revel in being the bastard seed of the '60s psychedelia and '90s Britpop bloodlines. That's the description given by their Facebook page, and almost a year ago I described their sophomore LP Peach as a combination of 60's psychedelic, newgaze, Brit-pop of an Albarn-esque quality, and grease-smothered garage that is reminiscent certain blues duos at their rockin' hardest. With their new split EPs Positive Distraction 1 and Positive Distraction 2 (to be released in the future as a full LP along with the release of Positive Distraction 2), the new leaner, pared-down line up of four only includes two original members, vocalist/guitarist Tommy Evans and drummer Justin Frederick. With the addition of bassist Eric Hehr and guitarist Mike Novak, Secret Colours return to try to further push forward and innovate in their music.
The first EP/half, Positive Distractions 1, is a reminder that Secret Colours can always play well to the strength of an influence. All three of my key tracks have that in common, and you can draw a line from influence to influence. Even the opening song "City Slicker" opens with some bar chords and I half-expected to hear a Pete Townsend wail over top of them. "It Can't Be Simple's" keys and dark guitars seem to draw on the Nuggets tracks of yesteryear. "Take It Slow" goes for a breezy, buoyant Tame Impala vibe with its hazy vocals and light, lush chorus effects. "Rotten Summer"—my favorite track on these EPs—takes all the fine stripping from a Raconteurs song and adds its own original twist and simple melody: bouncy keys; check, harmonizing vocals; check, and funky guitar splashes; check.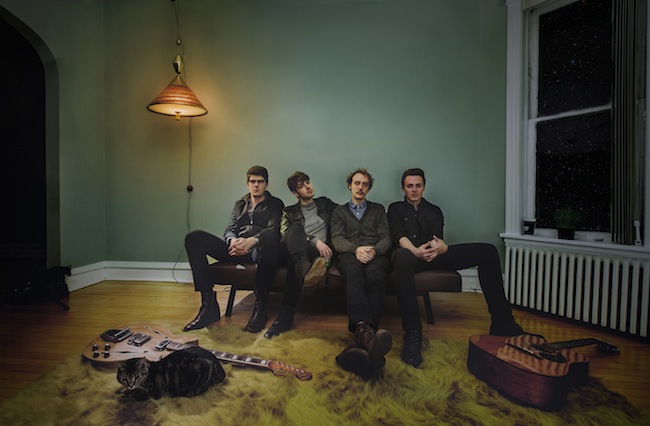 Now with all that positivity directed towards Positive Distractions 1 it should be no surprise that I feel it's the better EP. Positive Distractions 2 has its moments of interest, but lacks some of the hooks presented by its companion. Opener "Into You" is a funky track that for me screams Talking Heads. "Heavy & Steady" plays with a bass line slink, echoing guitar bursts, and near the end resembles some of The Flaming Lips' more lucid moments. "Quite Like You" again presents a sunny disposition along with a bouncy buoyancy, dancing to the strum of its own guitar. Final track "Positive Distraction" meanders a bit with its psych disposition, but a pleasant harmonica along with a country solo add a certain charm.
I went back and forth on this one. Secret Colours isn't taking any great risks here, and the more I listened the more I tended to get bored. But returning with a pair of fresh ears reminded me that if not always bold, Secret Colours is consistent, and Positive Distractions 1 and 2 are a great addition to the catalogue. With new bands in the ever-growing psych movement emerging daily, I could see Secret Colours falling behind the curve, but with their easy going and lighthearted sound we'll see if they can make some interesting changes to diversify their next release.
Positive Distractions I
Key Tracks: "It Can't Be Simple," "Take It Slow," "Rotten Summer"
Positive Distractions II
Key Tracks: "Heavy & Steady," "Quite Like You," "Positive Distractions"
Artists With Similar Fire: The Raconteurs / The Shine Brothers / The Spyrals

Secret Colours Website
Secret Colours Facebook
-Reviewed by Christopher Tahy
Latest posts by Christopher Tahy
(see all)