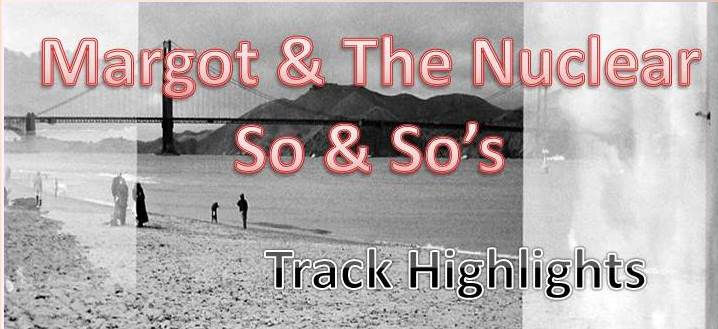 It's finally time for Margot & the Nuclear So & So's to grace us with their new album Sling Shot to Heaven. I have to admit upon first listen some concessions and adjustments had to be made, though not necessarily in a bad way—you might say that Richards and Co. might be a whole new kind of "Animal."
Richards still keeps things beautiful and intriguing with his lyrical wiles, but it seems the So & So's that we've known have come full circle. The electric guitar only makes occasional appearances and mostly gone are the lush layers of roguish chamber pop, replaced with something that seems reminiscent of Elliot Smith, Mark Kozelek, Tom Brosseau, John Cale, and Ryan Adams. To celebrate the release of the new album, I thought I'd help ease-in fans new and old with a primer of highlights from their back catalog. These songs aren't necessarily in order, but with five albums (counting Animal as a full album) I thought I'd take two tracks from each that I see as important precursors to the sounds of Sling Shot to Heaven.
"Jen Is Bringing The Drugs"


The Dust of Retreat

If there's any song that deserves to start this list it has to be "Jen Is Bringing The Drugs." Carrying a stripped allure that easily lends itself to Sling Shot's stripped nature, plus it has the added bonus touching on the important Margot theme of getting "fucked up"
"Talking In Code"


The Dust of Retreat

One of the more beautiful songs on Dust, "Talking In Code" has a slight waltz-y bounce that's showcased in Sling Shot,'s "When You're Gone. Margot has always had a knack for beautiful instrumentation, and this track is no different. Guitars swirl around the vocals, creating a docile, uplifting mood that counteracts the bleak lyrics. If pain is beauty then Edwards knows how to nail it down.
"Mariel's Brazen Overture"


Animal!

I included "Mariel's Brazen Overture" one: because it's a fantastic song, and two: because it focuses on what seems to be a confession of adultery. Sling Shot's "Long Legged Blond Memphis" shares the theme, as in that song a married man tries to pick up the girl of the title. A touch of Catholic fetishism really adds an extra layer that lets you truly know it's Margot.
"At The Carnival"


Animal!

While I tried to keep the electric guitars to a minimum, "At The Carnival" had to be picked because of its murky, seedy vibe. This track sums up the common factor that feeds into the typical Margot song, and the laid back Sling Shot to Heaven is no different
"Cold, Kind and Lemon Eyes"


Not Animal

Some of the best, subtle creeping acoustics I've heard, "Cold, Kind and Lemon Eyes" has a lucid, grown up, tired and worn feel that's carried over to Sling Shot and permeates the whole album.
"Real Naked Girls"


Not Animal

One of my favorite Margot songs ever, "Real Naked Girls" has a goose bump-inducing, bone chilling beauty that also marks a few on Sling Shot. This is a classic Margot—Animal!/Not Animal both have to be heard, especially this song. So much is communicated in two minutes and forty-one seconds.
"Lunatic, Lunatic, Lunatic"


Buzzard

Margot has always written from experience, and Sling Shot To Heaven is no exception. "Lunatic, Lunatic, Lunatic" is an example of this trend, also showing Edwards' strong knack for a keen lyric. "She sleeps on trampolines," is always fantastic.
"Tiny Vampire Robot"


Buzzard

Almost played at our wedding, "Tiny Vampire Robot' has always remained important to me despite its dreary qualities. I cannot stress enough that melancholic beauty has always been important to Margot, and it's always captivating to hear enchantment imbued with disillusion.
"Ludlow Junk Hustle"


Rot Gut, Domestic

Another highligh of Margot's style has to be the degenerative appeal of sex, drugs, and rock 'n' roll. There's nothing to say here except listen to the song—it says everything better than I could.
"A Journalist Falls In Love With Deathrow Inmate #16"


Rot Gut, Domestic

One of the most important songs out of these ten, "A Journalist Falls In Love With Deathrow Inmate #16" is fascinating, featuring with almost every element in the Margot spectrum: death, love, malice, and everything in between. Tugs the heartstrings every time.

Richard Edwards has said "This record is a little bit of my life, a little bit of my ideal life, and a little bit of fictional life, invented from fragments of people I've known." Sling Shot To Heaven was definitely a surprise to me. Check back Monday for The Fire Note's full review.
-Feature by Christopher Tahy
Latest posts by Christopher Tahy
(see all)