together PANGEA


Badillac
Harvest Records [2014]




Fire Note Says: LA trio does garage punk the way it's supposed to be done.
Album Review: I'll be perfectly honest: I hadn't heard of these guys until Badillac started getting some positive reviews in the music press. Although this is their third long player, it is their first for Harvest (original home of Deep Purple, Pink Floyd, Can and Wire) and the larger audience that that insures snared at least one new fan – me. These guys have everything I look for in a band: great melodies, energetic performances, gritty production and an attitude. Lead singer William Keegan has pointed to his love of 90's alt-nation bands such as Nirvana, Weezer and Smashing Pumpkins as inspirations but they share more with current garage punks Parquet Courts, FIDLAR or Wavves. If any of those bands are your cup of tea then I might just have your new favorite band right here.
Feedback and snarling vocals greet you immediately on opening track "Alive." The guitars chug and the drums explode until the chorus hits and that's when you know – these guys are pretty good. After the second go 'round we get an unexpected guitar solo that doesn't suck. Okay. Lots of bands can put a decent track up front. So what. "Make Myself True" cues up next and the bluesy verse gives way to a super powerful refrain: "I wanna talk to you/I wanna make myself true." The band has a nice grasp of dynamics, little hesitations and hiccups instead of the tired loud/soft. Two for two. Then comes the title track and first curveball. It's kind of laid back with hand claps and some really clever guitar parts. Bass player Bengston even busts out a harmonica. This is not at all what I expected.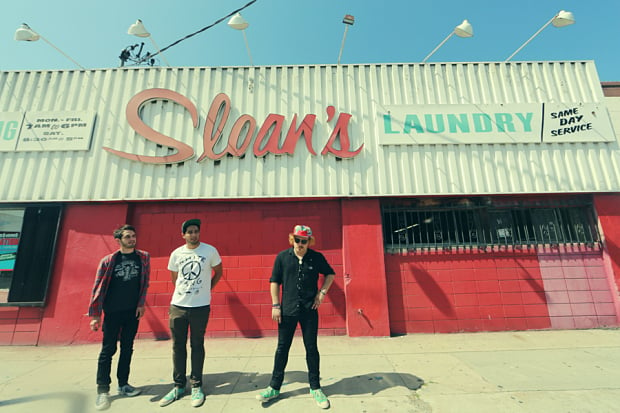 The unsung hero of this band is clearly drummer Erik Jimenez. Take "River" for instance. It's a simple punk rave-up but his back beat is so damned on point. He sounds like his kit is a snake coiled and ready to strike – all potential energy poised to go all kinetic on your ass. Acoustic goes electric stand-out "Offer" shows a Neil Young loving side to these California boys. Keegan trades his punk rock yelps for a sweet falsetto right before a killer middle eight that probably blew the garage doors right off during rehearsals. The remainder of Badillac is similarly full of nice little twists and turns. "Depress" has a post-punk vibe to it that I love. Mid-tempo highlight "Sick Shit" revolves around the lyrics: "My heart is lost/These things mean nothing to me/My dick is soft/These things mean nothing to me." If the song weren't so insanely catchy I'd say some kind of line might have been crossed but who cares when it's this good.
The album closes on a high note with "Where The Night Ends." This is where together PANGEA really separate themselves from their breathren. There's a darkness to it akin to that which Nick Cave so often conjures up. It demonstrates yet another guise in which they comfortably reside. There's no real genre-hopping going on; merely a true diversity of sound and a wealth of ideas. This is a rock band that doesn't seem constrained by whatever scene they've been a part of. Indeed, they rather sound like a band on the verge of greatness and Badillac is one of the best records I've heard so far this year.
Key Tracks: "Alive", "Where The Night Ends", "Offer"
Artists With Similar Fire: Wavves / Parquet Courts / Ty Segall

together PANGEA Website
together PANGEA Facebook
Harvest Records
-Reviewed by Scot Lade
Latest posts by Scot Lade
(see all)