Mikal Cronin/Superchunk


"Takin' It Easy" b/w "Good Morning"
Merge Records [2014]


Late last fall, Merge Records announced Or Thousands of Prizes which is a subscription-based, bonus-filled box set celebrating Merge Records' twenty-fifth anniversary. Merge also did a really cool thing and donated all the proceeds to Oxfam America. Part of this box set includes 7-inch singles that will mostly be splits by Merge artists. Here is number one and it is worth every penny as it features Mikal Cronin and Superchunk.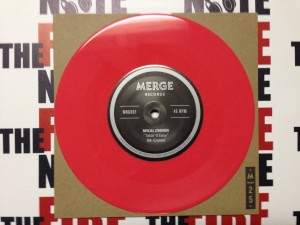 The A-side, "Takin' It Easy" is from one of our favorite artists Mikal Cronin. It sounds like you think it should as it smoothly jangles along with quality lyrics and a big hook as Cronin's vocals hide slightly below the instruments. The B-side, "Good Morning" is an excellent upbeat rocker from Superchunk. It absolutely is not a throwaway and continues Superchunk's indie rock story. As Mac sings out about waking up his foggy head the song acts like a true shot of caffeine.


The jacket is a special 25 years cardboard design for this series. Very plain and old school with a nice silver M25 stamp in bottom, cut-out middle and some art squiggle cut-outs on the back. The 7-inch vinyl is a solid lighter red and limited to the series as the singles are not available individually or sold in stores. The series itself is sold out so if you want a copy you will need to search one out in the second hand market.
Superchunk Website
Mikal Cronin Website
Merge Records
-Feature by Christopher Anthony
Latest posts by Christopher Anthony
(see all)