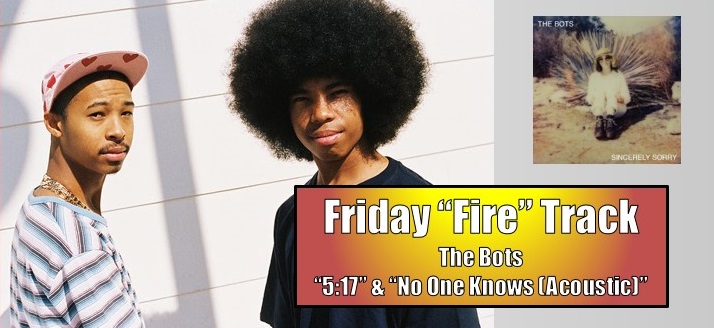 How about a double Friday Fire from The Bots this week! The group has been on TFN radar for some time now as the band impresses us more with every new material they release.
Brothers and bandmates Mikaiah Lei (Lead Vocal, Guitar, Bass), and Anaiah Lei (Drums & Percussions, Backing Vocal) hail from Los Angeles and have been making music together since they were 15 and 12, respectively. "5:17" is from their fall four-song EP release Sincerely Sorry and the acoustic "No One Knows" was a new offering in late January.
The more exciting news is that the band is slated for a full-length release this summer. They also are set for a high profile Coachella set on Friday, April 11th and Friday, April 18th so if you are going into the heat be sure to find them on your schedule!
Enough talk about The Bots – hear for yourself below. Also I don't recommend the backwards walking on a highway – but it makes for a cool video!

The Bots Website
The Bots Facebook
FADER Label
Latest posts by Christopher Anthony
(see all)