Warm Soda


Young Reckless Hearts
Castle Face Records [2014]



Fire Note Says: Young Reckless Hearts should have been a contender, but instead is a bit of a head scratcher.
Album Review: Warm Soda's debut album, Someone For You, was one of those albums that hung around my playlist all year long in 2013. It was one of those records that I admittedly should have given a higher rating than I did, because it just kept growing on me all year, but alas, as a writer you only have a limited window of opportunity to listen to a record before writing the review, then you are forced to live with it, even when you are wrong. So with that being said, I vowed to myself that I would not make the same mistake with Young Reckless Hearts, Warm Soda's second album.
Unfortunately, Young Reckless Hearts isn't quite up to the same standards as Someone For You. Matthew Melton still writes catchy lo-fi garage pop gems, but Young Reckless Hearts is missing a little something. I don't know if it sounds tired, or bored, or exactly what it is, but the energy level that made the debut so infectious just isn't present on this one. Melton still sounds a lot like Julian Casablancas (Strokes), but he takes the idea of the detached cool vocal thing to the point of almost seeming disinterested, in fact, I think that's my biggest gripe with the record. It could just be that the vocals are a bit smoother on tracks like "Forbidden Emotion" than they are on the first album. Melton's singing style hasn't really changed, but there was more of an edge to the vocals on the first album, I don't know if it was a mixing choice or what, but it definitely takes away from his performance. That's not to say this is a bad record, or that it's not worth listening to, because that is not true at all. "Young Reckless Hearts" is a great song, full of passion and longing, and "Postcards" would have fit nicely on the first album.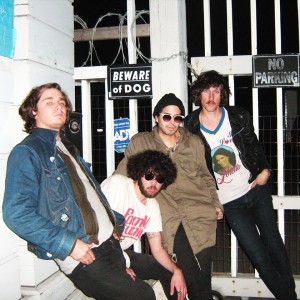 Young Reckless Hearts is an album that should have been a contender, instead it's more of a head scratcher and a bit underwhelming. There's enough good stuff here to make me hope that this is just a minor setback and that the band will get things back on track with their next release.
Key Tracks: "Postcards", "Young Reckless Hearts", "Things That We Said"
Artists With Similar Fire: The Strokes / Ty Segall / Thee Oh Sees

Warm Soda Website
Warm Soda Facebook
Castle Face Records
– Reviewed by Kevin Poindexter
Latest posts by Kevin Poindexter
(see all)