Tony Molina


Dissed And Dismissed
Melters/Slumberland Records [2013/2014]




Fire Note Says: Tony Molina only needs 12 minutes to win you over!
Album Review: Veteran Bay Area musician Tony Molina released a limited run record last year that I guarantee not enough people heard. His twelve minute album, Dissed And Dismissed, came out on the small San Francisco label, Melters Music and became instantly hard to find. The reason it was such a gem is that Molina completely holds a class on how to make an infectious power pop record while disguising all of its pieces with lo-fi produciton, short songs and plenty of guitar.
Dissed And Dismissed is full of catchy components that include compact hooks that would fit in on Weezer's Blue album, electric Dinosaur Jr. type guitar work that finds its own space and a lo-fi hum that would make Guided By Voices proud. Molina also relies on some other "classics" to pull this album together as you can hear the Ramones and Replacements on album opener "Nowhere To Go." Of course, this all takes place on the record's initial 48 seconds. It is hard not to get lost in this album as its sound is so familiar. On the just over a minute "Can't Believe," you find its last half dedicated to soaring guitar chords that will have you thinking that J. Mascis stepped in for a second. "Tear Me Down" has the pulsing drive of Rivers Cuomo's perfectly in synch vocals while Molina salutes GBV with not only creating short songs but even covers "Wondering Boy Poet" from Vampire on Titus (1993).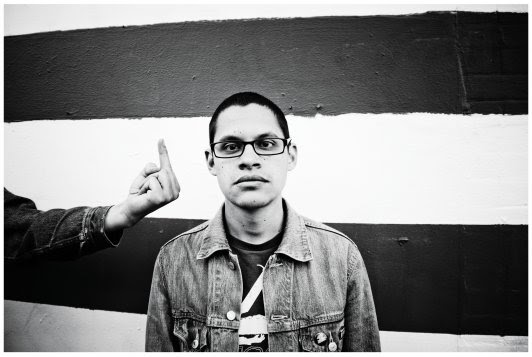 Thinking this record is just a bad rip from all of these great bands would be a huge misunderstanding. Molina owns this sound as you can hear that he is a fan but he stamps Dissed And Dismissed with his own trademarks time and time again. The really strong riffs found on "Don't Come Back" will remind fans that he plays in several other more hardcore acts while he talks about lost love on album closer "Walk Away" which comes with an emotional punch in its mix of guitar and fuzz. These types of connections and memorable lines is what makes this debut so memorable. Molina highlights for you all the reasons you love guitars, hooks and fuzz as you revisit this short and very sweet record. It also will raise your anticipation for a new full length he will be releasing on Slumberland later this year which has the makings of something special and end of the year list worthiness. You can already bet I will be in line waiting!
Key Tracks: "Can't Believe", "Don't Come Back", "Wondering Boy Poet"
Artists With Similar Fire: Dinosaur Jr. / Weezer / Guided By Voices
Tony Molina Website
Tony Molina Facebook
Melters Music
Slumberland Records
– Reviewed by Christopher Anthony
Latest posts by Christopher Anthony
(see all)