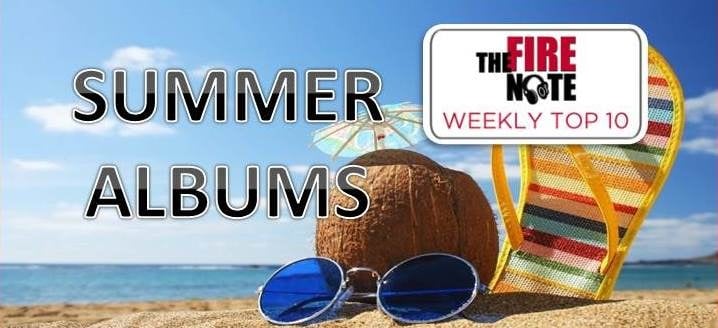 With more snow hitting the ground in March it only makes sense to skip thinking about Spring and go straight for Summer. With that thought in mind, I rummaged through TFN collection and went to several must listens that always make their way to my player when the sun is high.
Clearly this list could be quite expansive and by no means, don't be confused that this is a "best ever" list of summer albums. This is simply a top 10 based on the fact that The Fire Note is cold!!
Enjoy and feel free to add some of your favorites below. Roll the windows down and turn up the volume!
#10

Best Coast


The Only Place
Mexican Summer Records [2012]


I can't tell you how many times I just let this catchy summer record spin. Bethany Cosentino has such an upbeat vibe going on here that it is hard not to enjoy as she sings about her California home. The Only Place instantly brings the sun to mind!

)
#9

Kyuss


Blues For The Red Sun
Dali Records [1992]


Before there was Queens of the Stone Age there was Kyuss. This record helped propel and influence stoner rock to where it is today. It also absolutely shreds on a summer day and with a title like Blues For The Red Sun how can you deny it!

)
#8

The Beach Boys


Surfin' USA
Capitol Records [1963]


I could not think about summer and forget about some classic Beach Boys. Sure, Surfin' USA is not their most critically praised record but with the title track kicking things off, the drag car racin' "Shut Down" and 5 surf instrumentals including "Misirlou" – it doesn't get much more "summer" than this classic.

)
#7

The Flaming Lips


The Soft Bulletin
Warner Bros. Records [1999]


If you are somewhat new to The Flaming Lips then you might be questioning how they ended up on this list after tackling their most recent drone vibe called The Terror. Well, The Soft Bulletin is not only one of their best albums but a beam of brightness pours out of this record around every track. Warmth and light are in full supply from the Lips on this one.

)
#6

Supergrass


In It For The Money
Capitol Records [1997]


The album cover of Supergrass' sophomore record was a little ironic as the boys look cold but its April release and big soaring tracks scream windows down. "Sun Hits The Sky" is still one of my favorite tracks and "Richard III" takes off so quick it always makes me check my speed.

)
#5

The Beatles


Sgt. Pepper's Lonely Hearts Club Band
Capitol Records [1967]

Do you really need to question this Beatles record? Sure, a few others might apply but Sgt. Pep was highly anticipated, released in June and is a staple when people talk about the "Summer of Love." Truly a classic and fitting for when everything is bright.

)
#4

Pixies


Surfer Rosa
4AD Records [1988]


This record from the Pixies radiates heat from the vocal dynamics to the album cover. When people ask why the Pixies were important just steer them back to Surfer Rosa. It is a fresh and energetic sounding album right down to its superb drumming. Ever listen to Nirvana and think Pixies – you should!

)
#3

Ramones


Rocket To Russia
Sire Records [1977]


"Rockaway Beach" alone tags Rocket To Russia a summer record but "Cretin Hop," "Surfin' Bird," "Sheena Is A Punk Rocker," and "Teenage Lobotomy" solidifies the case support. You should just own this record!
#2

Japandroids


Celebration Rock
Polyvinyl Records [2012]


There is a reason that Celebration Rock was TFN's number 1 album of 2012. "We yell like hell to the heavens" is a line out of the first track "The Nights Of Wine And Roses" which is just the start of this high octane record that never sleeps – a new summer staple was born from the Japandroids!
#1

Green Day


Dookie
Reprise Records [1994]


I remember having this record on a Florida spring break and it made all the difference in the world. Sure that means that I am old but Dookie stands tall today and most importantly – it sounds great loud! It also makes me scream – "Please bring some warmer weather now!"

-Feature by Christopher Anthony
Latest posts by Fire Note Staff
(see all)