Quilt


Held In Splendor
Mexican Summer Records [2014]



Fire Note Says: Boston psych folk trio offer up a breezy, groovy winner.
Album Review: Quilt's self-titled first album was recorded piecemeal across three years and numerous home studios – and it sounded like it. Not that it was terrible or anything, quite the contrary. It was a nice enough slab of sixties-indebted retro. The problem was, as can be expected, that it lacked any semblance consistency and cohesion. For their second record, Anna Fox Robinski, Shane Butler and new drummer John Andrews used a real studio (down in the basement of Mexican Summer's Brooklyn headquarters) and dedicated themselves to creating an album worthy of their (considerable) song writing abilities. Carefully constructed and brimming with understated confidence, Held In Splendor defies its easy genre classification. Yes, one can certainly make out Buffalo Springfield here, The Electric Prunes there, and a healthy dose of Love throughout, but it is Tame Impala's unique way of blending the ghosts of the psychedelic past with a decidedly modern template that resonates most of all.
Things begin pleasantly enough with early single "Arctic Shark." It's a low key affair made stunning thanks to Robinski's hushed soprano. It has the kind of timbre to it that makes Cate Le Bon so interesting. The hippie, trippy imagery comes at you right from the get-go: "How can I proceed with thee?/This Eastern harbor's full of grief." Later the hook kicks in with fake sitar and she delivers "All your heavy hearts are simply illusory/They will find an open shell in which to grow and set you free." I doubt any of this means a thing but it sure does work. Sometimes the sound of the words being sung is as important as their meaning. Quilt is at its best when Robinski sings lead but Butler does a fantastic job too, especially on the hypnotic Grateful Dead stomper "Eye Of The Pearl." We even get a banjo in the outro of that one! I think Jerry Garcia would have liked it. He'd probably also like the squiggly guitar work on "Saturday Bride." These songs are complex in an easily digestible way with just enough familiarity to make it one of the least challenging listens I've heard in a while. "Mary Mountain" is arguably the best song here with its "Eight Miles High" guitar and a melody that will get you dusting off the old Byrds vinyl. The opening sequence of great songs ends with "Tie Up The Tides." Imagine Unknown Mortal Orchestra with a female singer (if you can) and that's not too far off the mark. The oddball R&B is totally unexpected but totally succeeds.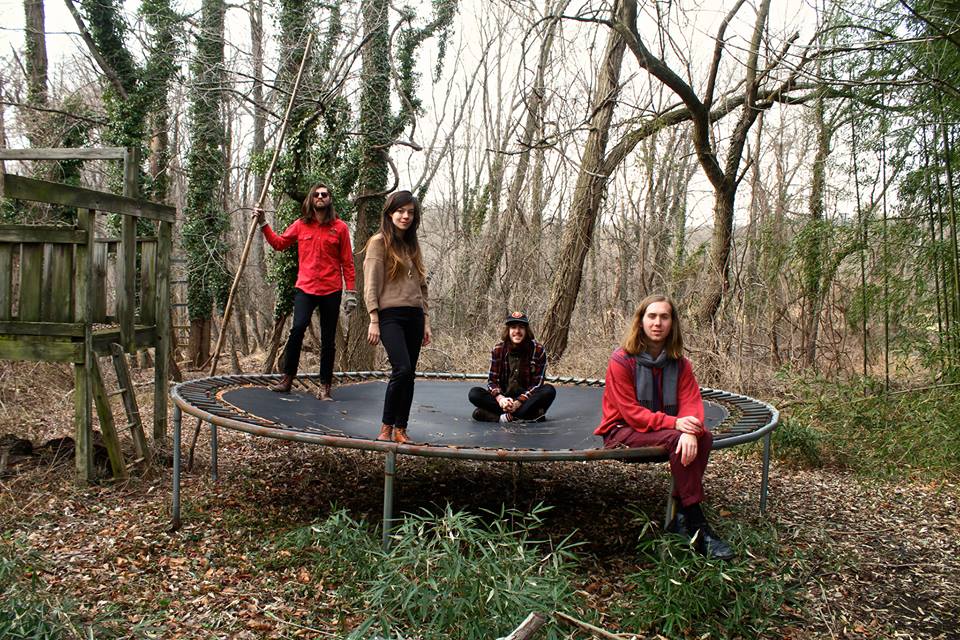 Things go slightly wrong after the strong start. The tempos slow down as the folksier side of Quilt takes over. There are some really good songs one Side Two but the album is so seriously front-loaded that it is a bit of a let down. Of particular note is the instrumental track "The World Is Flat" as it points to a whole different avenue for the band to explore. Kinda jazzy, kinda surf-rock. There's a hint of sax in the background peaking out. It's a really cool song and I only wish more of the back end of Held In Splendor had the same innovative spirit. But let's be honest: Quilt isn't looking to be the most original band in the world. Taking their cues from bands with members in retirement homes, it is an exceptional feat to put a record like this out and have it feel fresh and current. And it does, it really does. They actually provide an excellent example for other bands to follow: choose your influences very carefully and don't let them swallow you whole. All to the good, but it also helps if you can write good songs. Of the thirteen songs on Held In Splendor there's not a rotten one in the bunch. This is a band to keep an eye on.
Key Tracks: "Arctic Shark", "Eye Of The Pearl", "Tie Up The Tides"
Artists With Similar Fire: Rose Windows/ MMOSS / Disappears

Quilt Website
Quilt Facebook
Mexican Summer Records
-Reviewed by Scot Lade
Latest posts by Scot Lade
(see all)