Mozes And The Firstborn


Mozes And The Firstborn
Burger Records [2014]




Fire Note Says: Mozes and the Firstborn's debut brings an excellent mix of garage rock from the Netherlands to your speakers!
Album Review: The self-titled debut from the Netherlands, Mozes and the Firstborn took me by surprise when I first hit play with its disregard for modern trends and the band's love for a psychedelic garage rock mix that won me over almost immediately. The record offers several different styles but keeps its primary focus right in the indie rock wheelhouse and succeeds with the band's laid back and almost slacker style attitude.
Right from the big sounding anthem guitar opening on first track "Bloodsucker," Mozes and the Firstborn grab your attention as lead singer Melle Dielesen sings "Hey – you say I'm cold but you're freezing." You know where this tale is going and Mozes delivers with its retro groove throughout the track and then the sing-along title chorus hits with increased drums and a guitar solo that takes you right back into the chorus as the track ends. Sold! I can only describe their sound as a Rolling Stones grit meets an undertone of Tame Impala psychedelic with the laid back attitude of Camper Van Beethoven while possessing garage hooks that have a Ty Segall pulse. I know that is a mouthful but each of these styles surface throughout the record either in unison or in their own special moment which keeps the listener glued to each song. The hand claps and the slacker chorus "I Got Skills" could be a modern Camper Van track while the cool swaying swagger on "Seasons" gets under your skin, in a good way, as its strong drums pop out while vocally the song takes a more Arctic Monkeys vibe. Once again, the group keeps one foot in the garage genre and feels out different areas with the other. It is this record's strength.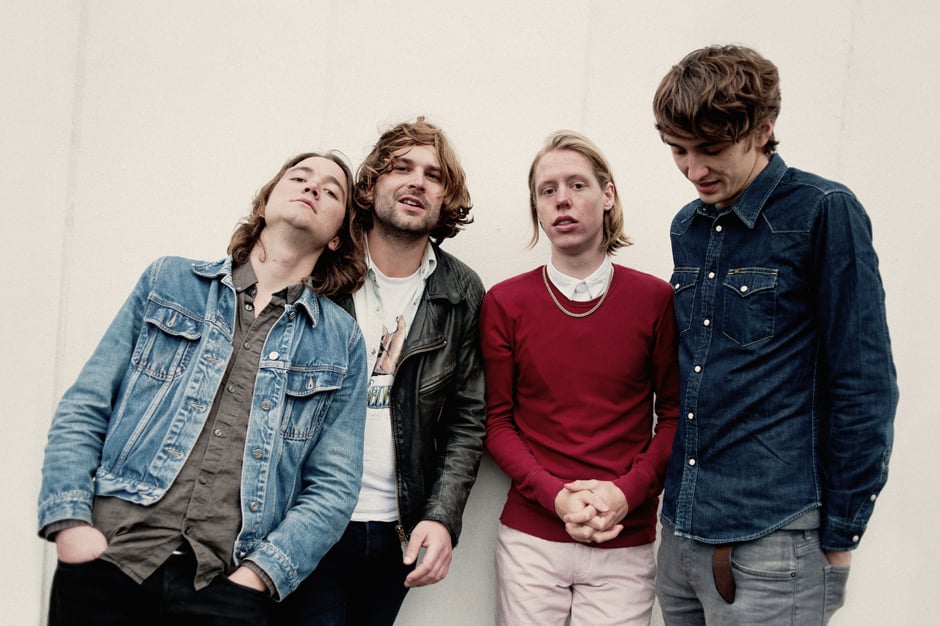 Mozes and the Firstborn continue their music blend and offer tweaks of their sound like on the Beach Boys sunny bop during "Skinny Girl". The ballad "Heaven" will surprise you when the screeching guitar sprawl comes out of nowhere while the big rock moments in "Gimme Some" give the song teeth as Dielesen's controlled vocal delivery keeps the track in its sweet rhythm.
Mozes and the Firstborn entertains right to the end as their debut has all the pieces that make indie rock so enjoyable to listen to. Dielesen states on "Peter Jr." – "The harder you work here the less you get paid…," but I am thinking that based on the quality of this release, Mozes and the Firstborn might just be able to flip that line and sell some records because for me – this one is a keeper!
Key Tracks: "Bloodsucker", "I Got Skills", "Gimme Some"
Artists With Similar Fire: Ty Segall / Camper Van Beethoven / Tame Impala

Mozes & The Firstborn Website
Mozes & The Firstborn Facebook
Burger Records
– Reviewed by Christopher Anthony
Latest posts by Christopher Anthony
(see all)