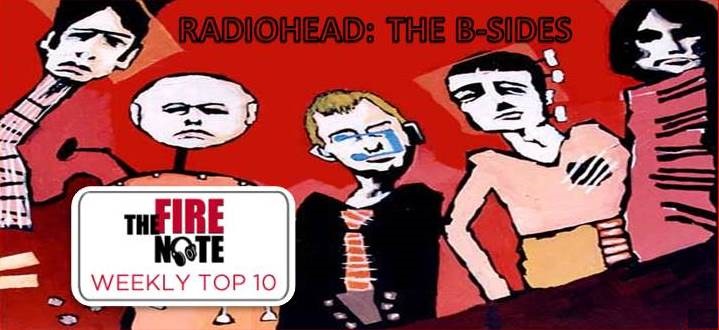 It's great that Radiohead has meant so much to so many people over the years as they have influenced a countless number of bands as far as the eye can see. While most everyone knows their great studio triumphs, there are plenty of people that have not tapped into this set of songs that rival their studio outputs.
So now ordered from one to ten we celebrate Radiohead's b-sides. Please be sure to comment on what you like or don't like, did we miss something or did we get it right. Did your favorites make the list?
#10
"Fog (Again) [Live]"


Com Lag: 2+2=5

"Fog (Again) [Live]" takes the 10 spot because it's the basis of beauty for many, many Radiohead songs. Yorke and a piano are easily two of the most successful weapons that Radiohead has in its' arsenal.
#9
"Inside My Head"


Creep-Single EP

Borrowing dark energies from bands like The Cure or Pixies, "Inside My Head" shows a guitar band that knows how to rock looking for identity. This early in their career track shows that they were just getting warmed up for something bigger.
#8
"Punchdrunk Love Singalong"


My Iron Lung EP

Radiohead could be called downers at times, "Punchdrunk Love Singalong" easily highlights this. Carrying lax moments of sweet sweet pain. This song is absolutely dreary in the best way possible.
#7
"Maquiladora"


High & Dry EP

"Maquiladora" is classic The Bends all the way. Borrowing from the guitar album's fervor. Johnny Greenwood is easily the star player here as his blistering solo rips the guitar in two.
#6
"Gagging Order"


Go To Sleep EP

One of the more charming songs to come out of the Hail to the Thief sessions. "Gagging Order" has its' charming, melodic bounce all while describing the presence of a body. What does it mean? That's for you to decide.
#5
"Go Slowly"


In Rainbows (Bonus Disc)

Fist seeing this on their In Rainbows-From The Basement, "Go Slowly" has to be here. While it includes the beauty of many slower Radiohead songs, its' real hooks come from a perfect melding of acoustic and electric guitar. Yorke's croons of "But, there's a way out," also add important brevity.
#4
"True Love Waits"


I Might Be Wrong Live Recordings

Only played in live settings, "True Love Waits" is a hauntingly beautiful declaration form Yorke. While I'm sure the band had left the stage letting Yorke close out the evening. There's no denying that the acoustic guitar and vocals are any less powerful.
#3
"Bangers & Mash"


In Rainbows (Bonus Disc)

Again, another must from their In Rainbows-From The Basement performance. While it's fun to see Yorke set up with a small drum kit, it's even more of a treat to see both he and drummer Phil Selway go mimic for mimic. Johnny Greenwood helps even more as his raw, spry riffs show hints of The Bends. A fantastic Radiohead rocker.
#2
"These Are My Twisted Words"


Self-Leaked/Downloadable

A revisit of this track reminded me of why it is so enjoyable. "These Are My Twisted Words," a longer track for Radiohead, goes for a labyrinthine drone down the rabbit hole. It's one of the easiest tracks to get lost in, all the while remaining enjoyable!
#1
"The Daily Mail"


The Daily Mail/Staircase-Single

Imagine that you have no idea about this song. Then imagine that while seeing Radiohead for your third time they play this. This had to be one of the most exciting, exhilarating, and uplifting moments of the show. Only released attached to the song "Staircase," "The Daily Mail" takes a slow/quiet aural orgasm that send shivers up your spine.

-Feature by Christopher Tahy
Latest posts by Christopher Tahy
(see all)