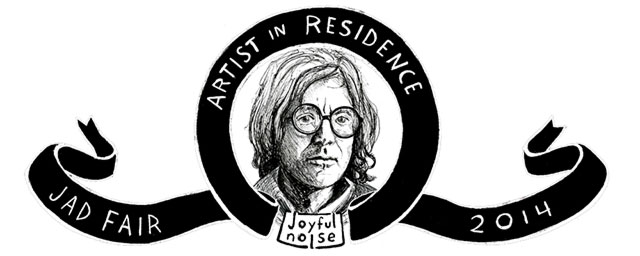 Joyful Noise Recordings is starting something interesting called "Artist In Residence." It is a year long campaign featuring the legendary Jad Fair! In addition to his work with the ground-breaking Half Japanese (who grandfathered punk rock's DIY ethos & the lo-fi movement), Jad Fair has recorded albums with Daniel Johnston, Yo La Tengo, Teenage Fanclub, etc.
As part of Jad Fair's residency he will be creating four full-length albums throughout the year, each a unique collaboration with other artists.
These four LPs are:
Jad Fair & R Stevie Moore
Jad Fair & Danielson
Jad Fair & Norman Blake (of Teenage Fanclub)
Jad Fair & Strobe Talbot
Each album will be released as part of a vinyl box set, limited to just 450 copies. All four albums will feature colored vinyl and custom letterpress artwork by Jad Fair. The LPs will be packaged within a wooden box set, screen printed, hand-numbered, and signed by Jad Fair.
LPs & download codes will be sent every 3 months, with the first release scheduled for April 15th. The limited edition vinyl will not be sold individually apart from the box set. You can pick up a box set HERE.
Latest posts by Christopher Anthony
(see all)