Young The Giant


Mind Over Matter
Fueled by Ramen Records [2014]



Fire Note Says: Young The Giant's sophomore LP is slick and crisp.
Album Review:
Young The Giant's second LP, Mind Over Matter, is at times irresistable. The California band, consisting of Sameer Gadhia (lead vocals), Jacob Tilley (guitar), Eric Cannata (guitar), Payam Doostzadeh (bass), and François Comtois (drums), made a splash in alternative radio with their debut. Tracks like "My Body" and "Cough Syrup" could be heard in TV commercials making the band difficult to avoid – if the band's name isn't familiar to you I'm sure that you've heard some of their work. Young The Giant backs up that success with musical chops – my inner hipster wanted to dismiss this album but there's just too much to like.
Young The Giant excels with the up-tempo guitar-driven tracks like the singles from their first album. There are a few of those on Mind Over Matter but to the band's credit they play with their sound so as to not replicate that formula. "Crystallized' is one of the two lead singles from the LP. I found Gadhia's voice to be layered and earnest and the guy knows how to sing a hook. "Crystallized" is a straightforward rock song that is executed really well, and is then followed up with title track "Mind Over Matter." It has a slight funk feel to it before it builds to another arena anthem.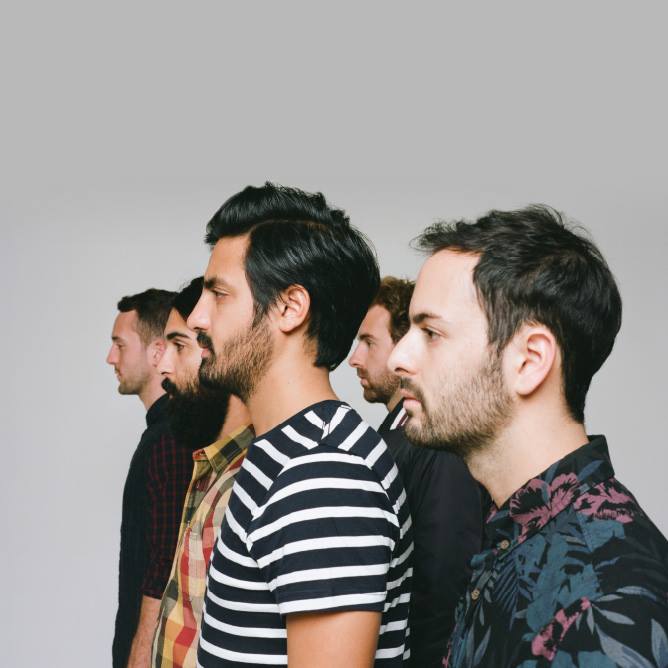 The band tweaks their sound throughout the album to keep things fresh but they're at their best when their songs barrel towards you with tight harmonies. "Anagram" employs strings and a soft intro to leave its mark. "Daydreamer" pretty much follows the same format only to be followed by the minimal "Firelight." It provides a nice contrast to the rest of the album and lets those radio-friendly songs stand out. But Young The Giant does have some range.
Sometimes we fail to appreciate commercially successful bands and even in writing this I'm trying not to overthink my take on this LP. Is it cool to like Young The Giant? Probably not. However, Mind Over Matter is an album I'd listen to with my kids and one I'd fire up when I want to listen something catchy and pleasant. That's why we listen to the radio, right? The production and overall slickness limits Mind Over Matter from leaving an emotional mark, but we'll leave that to other bands.
Key Tracks: "Anagram," "Crystallized," "Firelight"
Artists With Similar Fire: Cage The Elephant / Foster The People / Passion Pit

Young The Giant Website
Young The Giant Facebook
Fueled by Ramen Records
-Reviewed by Matthew Heiner
Latest posts by Matthew Heiner
(see all)