Speedy Ortiz


Real Hair EP
Carpark Records [2014]



Fire Note Says: Speedy Ortiz return with a four track EP that will leave you wanting more!
Album Review: Speedy Ortiz burst onto the indie scene last year with their debut full length Major Arcana (TFN Review). The record landed at #12 in our Top 50 with its modern early nineties indie rock obsession and automatically put us on high alert for more output from the Massachusetts band. Surprisingly, new material is upon us already with this four song Real Hair EP. You may be thinking this is simply leftover from earlier recording sessions but Speedy Ortiz is back with shining new material.
In typical EP format, Speedy Ortiz bring a different flavor to Real Hair which finds the band in a more structured song groove as they expand singer Sadie Dupuis' role and slightly soften some of the edges from their cutting guitar work. Fans of the full length may be somewhat concerned with this but Dupuis steps up to the task and shines. She still brings a young Liz Phair style to her delivery but on Real Hair her vocals are more upfront and personal as she belts out the line "Baby I feel so crazy. You keep me up for a whole week" on lead off track "American Horror." The song still has its noisy parts, courtesy of its muscular last third, but now sounds more focused and purposeful. It is a confident foot forward for Speedy Ortiz and it works flawlessly.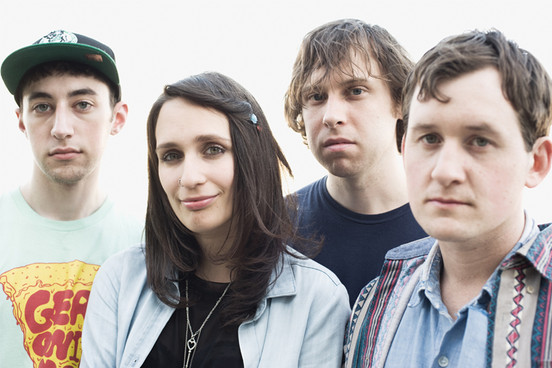 This "finding their true sound" continues on the flowing "Oxygal" that features tumbling guitars as Dupuis' catchy vocals weave around the waves of music before she pleads in the chorus "be in this picture with me." At this moment, as you find yourself humming along, you realize Speedy Ortiz is still a band on the rise. The last two tracks follow a similar pattern with a smoldering passion that only gets better upon repeat listens. This EP might still not be quite as breathtaking as their debut full length but it has a glowing charisma and comes close. It also succeeds by making the listener want more. More guitar, more Dupuis and more songs, so while Real Hair will hold you over for a bit let's hope the upward progression and productivity continue as I only see bigger and better things in Speedy Ortiz's future based on these four songs alone!
Key Tracks: "American Horror", "Oxygal"
Artists With Similar Fire: Throwing Muses / Liz Phair / Ex Hex

Speedy Ortiz Website
Speedy Ortiz Facebook
Carpark Records
– Reviewed by Christopher Anthony
Latest posts by Christopher Anthony
(see all)