Maxïmo Park


Too Much Information
Daylighting Records [2014]



Fire Note Says: Maxïmo Park look to shake up their sound on their fifth lp, with mostly positive results.
Album Review: Since bursting onto the scene with their debut album, A Certain Trigger, in 2005, Maxïmo Park has been a band that I have followed with great interest. Trigger is one of the great debut albums of the 2000's, full of catchy songs and bouncy punk/mod rhythms. To hear it was to love it. Things took a slight downward turn with their second lp, Our Earthly Pleasures, which found a more literate and mature Maxïmo Park trading in some of their bounce for songcraft. Their next two albums righted the ship and featured the spiky tempos and exuberance as well as the tunes. With their new album, Too Much Information, the band change things up once again, moving easily from their uptempo numbers to a more mature and sophisticated electro influenced sound. The two sides of the band's sound provides and interesting push/pull dynamic between the two sides, you are never really quite sure which direction the album is going to go next, and it can be as thrilling as it is frustrating.
I have always been a fan of the way the band always seems to have that big chorus that gets stuck in your head, and Too Much Information is full of them. The band are experts at building tension in a song before giving listeners that big release. "Her Name Was Audre" and "I Recognise the Light" are two classic sounding Maxïmo Park songs, with their jittery drums and snaky guitars. Opening track "Get, Give, Take" is another classic sounding Maxïmo track, but that quickly gives way to a more chilling sound on "Brain Cells" which comes across like a cross between The Knife and Depeche Mode, which is not a bad sound at all, it just takes some getting used to. "Leave This Town" ditches the influence of The Knife and is full blown Depeche Mode from the Violator era. From there the band switches gears once again, to the more mature sounding "Lydia, The Ink Will Never Dry".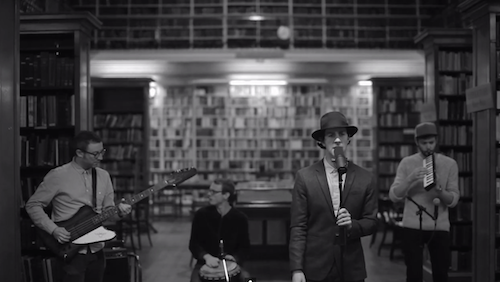 Maxïmo Park never seems to settle completely into a groove on Too Much Information. This sounds more like a transitional record to me, like they weren't exactly sure what they wanted to do with their sound, but they didn't necessarily want to just make the same record for the third time in a row. I applaud their efforts, this is a fine record, even if it is a bit uneven. Their willingness to take chances to be admired, now they just need to hit their groove and go with it. Now guys, how about a tour that actually gets off the ground over here in the states????
Key Tracks: "Her Name Was Audre", "Leave This Town", "Brain Cells"
Artists With Similar Fire: Bloc Party / Depeche Mode The Futureheads
Maxïmo Park Website
Maxïmo Park Facebook
– Reviewed by Kevin Poindexter
Latest posts by Kevin Poindexter
(see all)