There's been a lot of turmoil in Pixie-land of late. With the departure of Kim Deal and her replacement Kim Shattuck, attention has been understandably centered around whatever female bass player lines up to play with the legendary band. The newest member is no stranger to the spotlight – or to strong personalities within a high profile act. Paz Lenchantin is the New Girl and has been a founding member of both Billy Corgan's ill-fated supergroup Zwan and Maynard James Keenan's A Perfect Circle. So "dealing" with Frank Black and company doesn't appear to faze the 40 year old Argentine-American. You see, I too buried what should be the lead here: this is the first Pixies tour since 1992 in support of actual new material. And that new material, in the shape of two EP's, has been unfairly maligned by most critics. I personally love the new songs and they were even better in a live setting, sitting comfortably beside all the classic Pixies tunes.
Having arrived fashionably late I (intentionally) missed opening act Cults. I was there to see Pixies. And I doubt anyone in the sold-out venue left disappointed with their 100 minute, 30 song set. From the onset it was obvious that Frank Black was little inclined to acknowledge or even speak to the capacity crowd. They simply went about wowing the crowd with as professional a showing as I've seen in some time. Joey Santiago brought his A game, delighting the audience with faithful interpretations of his studio guitar prowess. Dave Lovering showed some personality too, especially during his turn on lead vocals with "La La Love You." Lenchantin, for her part, displayed remarkable restraint by simply holding down the fort on bass. No flashy showmanship allowed (as it was apparently what got Shattuck fired.) Just rock-solid musicianship. But she did give a great impression of Kim Deal on backing vocals and even her mannerisms were sort of Kim-like. Weird.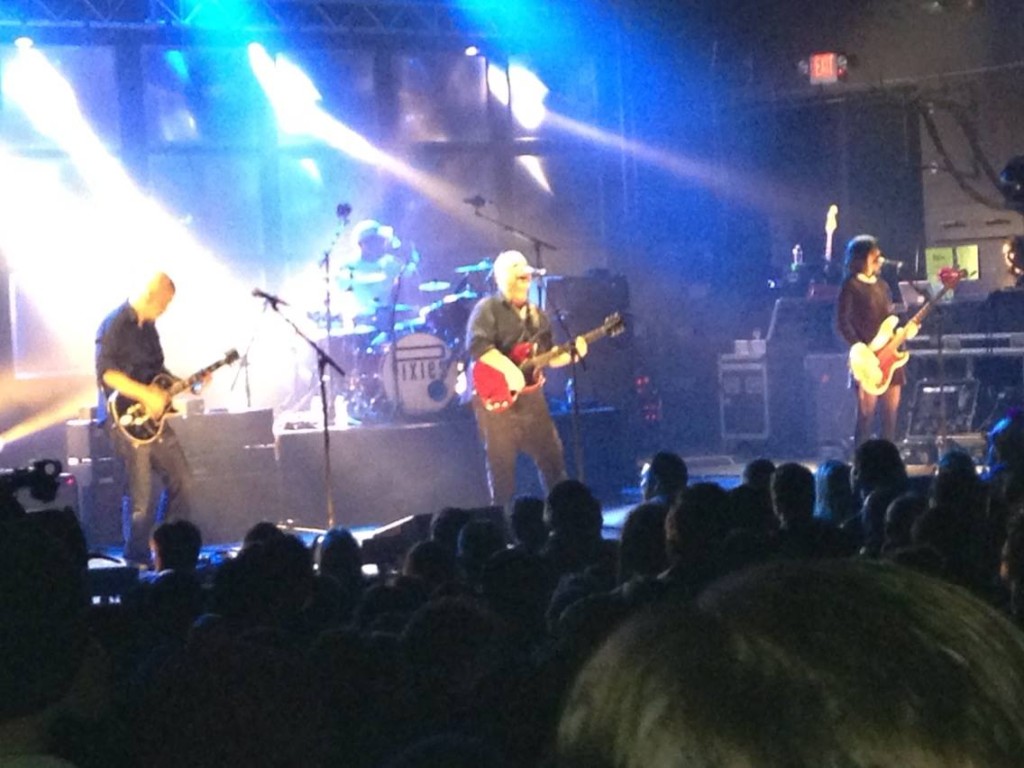 Almost all of the Pixies catalog was well represented – the glaring exception being 1990's Bosssanova. The lone song from that epic slab of greatness was "Ana." No "Velouria" or "Hang Wire" or "Dig For Fire." But with so much terrific material to sift through there was going to be some things left out – especially when they played a total of six new songs. Throughout the night the Pixies faithful fans sang along to every word and even though the old tunes got more applause than the newer stuff it was a steady stream of love being showered upon the four figures on stage. Certain songs seemed to garner even more of a reaction: "Gouge Away," "Where Is My Mind?" and (somewhat surprisingly) "Hey" all got the crowd into a frenzied state. But for me it was the two encores that perfectly summarized why we all love this band. Both "Debaser" and "Planet of Sound" were amazing and though I didn't want them to stop playing, it was the perfect way for them to do so.
In all, they played four songs from Come On Pilgrim, seven from Surfer Rosa, eight from Doolittle, one from Bossanova, four from Trompe Le Monde and six new ones. And by the end of the night no one even missed Kim.


Set List:
1. Bone Machine (Surfer Rosa)
2. Wave Of Mutilation (Doolittle)
3. I've Been Tired (Come A Pilgrim)
4. Caribou (Come A Pilgrim)
5. What Goes Boom (EP 1)
6. Something Against You (Surfer Rosa)
7. Crackity Jones (Doolittle)
8. U-Mass (Trompe Le Monde)
9. Head On (Trompe Le Monde)
10. Monkey Goes To Heaven (Doolittle)
11. Magdalena (EP 2)
12. Cactus (Surfer Rosa)
13. Gouge Away (Doolittle)
14. Bag Boy (single)
15. Blue Eyes Hexe (EP 2)
16. Broken Face (Surfer Rosa)
17. Isla De Encanta (Come A Pilgrim)
18. Hey (Doolittle)
19. Ana (Bossanova)
20. Brick Is Red (Surfer Rosa)
21. Motorway To Roswell (Trompe Le Monde)
22. Here Comes Your Man (Doolittle)
23. La La Love You (Doolittle)
24. Indie Cindy (EP 1)
25. Nimrod's Son (Come A Pilgrim)
26. Vamos (Surfer Rosa)
27. Greens And Blues (EP 2)
28. Where Is My Mind? (Surfer Rosa)
Encore:
29. Debaser (Doolittle)
30. Planet Of Sound (Trompe Le Monde)
Pixies
February 7, 2014
LC Pavilion, Columbus OH
-Review By Scot Lade
Latest posts by Scot Lade
(see all)