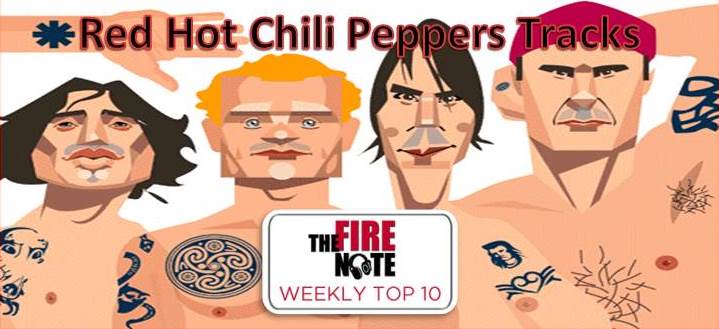 The Red Hot Chili Peppers have been taking some heat this week after it was noticed that they didn't "plug in" for their Super Bowl performance. Flea tried to explain their actions while fans and critics landed on both sides of the debate.
I guess I don't really care – Chad Smith played drums with NFL logos all over it and personally, I thought their performance was fine. I would have liked to see them plugged in but I also understand that the NFL didn't give them much of a choice. Considering the show was viewed by a gazillion people I think most bands would have made the compromise.
Well instead of giving RHCP a hard time, TFN thought why not celebrate the band with 10 of our favorite tracks! Enjoy and feel free to add your own in the comments.
#10

"Torture Me"


Stadium Arcadium [2006]


This is a deeper cut found on the double album Stadium Arcadium. I really like this song because it uses all of the Peppers past strength and brings it forward. In a record that is somewhat bloated and has plenty of their signature sing-alongs like "Snow" and "Hey," "Torture Me" stands out with its horn section, speed up slow down pace and perfect lyrics for RHCP in 2006 and today.
#9

"Can't Stop"


By The Way [2002]


"Can't Stop" was the third single off of By The Way. It is one of the few tracks on the album that comes close to the original Chili Peppers style of short, rapped verses, combined with plenty of layered guitar pieces that always worked for me. "Can't stop the spirits when they need you!"
#8

"Sikamikanico"


Under The Bridge (Single) [1991]


Here is a B-side from "Under The Bridge" off the Chili Peppers strongest record Blood Sugar Sex Magik. I have no idea what the song title means but I always thought its crazy energy summed up the band back in 1991. Flea's strong bass, Frusciante's riff and plenty of Kedis just using his quick fire vocal talent.
#7

"Californication"


Californication [1999]


By the time this title track was released as the fourth single I think that many people were probably over this album a bit but I have always thought that this song was the perfect "mature" track in the band's catalog. It tells the tale of a darker side of Hollywood, so what better storyline do you need for a song. It was never over the top and has a memorable and smooth delivery.
#6

"By The Way"


By The Way [2002]


"Standing in line to see the show tonight" is the first line delivered off this opening title track on the 2002 record. It has such a simple beginning that the song just works right away and then 32 seconds in takes on a RHCP classic vibe.
#5

"Give It Away"


Blood Sugar Sex Magik [1991]


Let's forget about the Super Bowl and take "Give It Away" at face value – this is a great song! It gave the band their very first number one and has a video that still freaks me out a little bit today. It is also funny to think back and remember that some radio stations didn't even want to play this song because it lacked melody.
#4

"Fight Like A Brave"


The Uplift Mofo Party Plan [1987]


"Fight Like A Brave" is the oldest track on the list and shows off a bit of the Peppers origin. The song is about Anthony Kiedis' addiction to heroin and how he overcame the battle. I still think the track has strength coming from such a personal place.
#3

"Under The Bridge"


Blood Sugar Sex Magik


This is the highest charting song for the band on the Billboard 100 and also one of its most memorable. You can feel the loneliness pouring out of the track as it has a true emotional impact. It still reigns today on alternative radio (if that still exists)!
#2

"Higher Ground"


Mother's Milk [1989]

Cover songs can work for a band and sometimes they really can work. Not many people can take on Stevie Wonder and succeed and I am sure somewhere there was somebody close to the group that thought this was a terrible idea. With all respect to Mr. Wonder, who knew that the RHCP version would be better than the original and can still get you revved up today. "Higher Ground" not only ranks high on the Pepper song list but also would be near the top in our book for cover songs.
#1

"Suck My Kiss"


Blood Sugar Sex Magik [1991]


I don't care where I am but when I hear "Hell, I'm sailing," I always reach for the volume knob. The huge pulsing bass riff and strong beat couldn't be any better plus when the guitar solo hits the song moves to a new level. I also think that following the stylish "Funky Monks" on Blood Sugar made "Suck My Kiss" come at you with an even hungrier appetite!

-Feature by Christopher Anthony
Latest posts by Christopher Anthony
(see all)