The Revered Horton Heat


REV
Victory Records [2014]



Fire Note Says: The Reverend Horton Heat return with a rockabilly fever on REV.
Album Review: I will admit that as a Reverend Horton Heat fan I have been left a little empty with their last several releases. The live material on 25 to life (2012) was fine and a testament to their strength but it should be – it was a live release. Their last studio record was 2009's Laughin' And Cryin' With The Reverend Horton Heat which was a more mellow and country affair that had its moments but it did not bring the "in your face" rockabilly that the Heat are known for. That brings us to their Victory Records debut and 11th studio record REV.
The title and label alone should give you some clue that vocalist/guitar slinger Jim Heath, bassist Jimbo Wallace and drummer Scott Churilla are ready to put the pedal to the floor again as the kickoff instrumental track "Victory Lap" is a quick assurance that is what you are going to get on REV. It is followed by the power song, "Smell of Gasoline" which possesses Heath's trademark quick fire guitar work and Jimbo's speedy rhythms. Other tracks that will remind you of old school Reverend here is "Zombie Dumb" with its minimal vocals, big surf rockabilly output and the deep voice Heath delivers when he sings "Zooombie Dumbbb." It is a track that reminds me of the great "Marijuana" from their 1992 debut Smoke 'Em If You Got 'Em.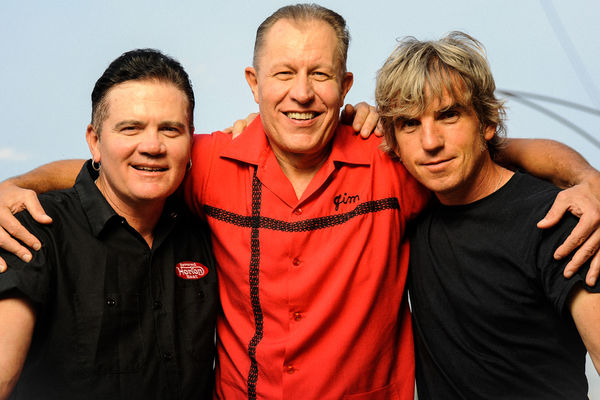 This classic sounding Horton Heat vibe pulses throughout REV which is hands down its strength. It is the record fans have been waiting for some time to hear and it is their most solid collection of songs that dates back to Spend A Night In The Box (2000). It is a record that could easily sell new listeners on the Reverend but at the very least should gain back any fans they have lost over the last several years. If you want to critique the record for anything, you could say the band reverts completely to what they know best on REV so trying to use words like innovative, modern or edgy just won't be the case with this album. In the same breath, I like this record more because of it so those music snobs can keep the negative comments to themselves! Basically, the Reverend Horton Heat are back singing about women, life, touring, mental health and zombies all complete with Heath's sharp lyrical tongue. What is not to like? If you have been a Reverend Horton Heat fan over the years, this is the record that definitely should REV you up!
Key Tracks: "Smell Of Gasoline", "Zombie Down", "Chasing Rainbows"
Artists With Similar Fire: Deadbolt / Flat Duo Jets / Supersuckers

The Reverend Horton Heat Website
The Reverend Horton Heat Facebook
Victory Records
– Reviewed by Christopher Anthony
Latest posts by Christopher Anthony
(see all)