Amen Lucy, Amen


Ashore For The End
Brave New Records [2014]



Fire Note Says: Amen Lucy, Amen takes a refreshing approach to the folk genre.
Album Review: Amen Lucy, Amen describe themselves as a "woozy-boozy cyclone" that sings "punk-inspired folk tunes." The description fits their debut album Ashore for the End perfectly. The experimental arrangements and odd pairings of genres work well. Their music is mostly fast, upbeat with punk and folk undertones that would fit nicely into the background at a pub. Amen Lucy, Amen has created a new, refreshing take on the folk genre.
Within the first few seconds, I knew I was going to like Ashore for the End. Opening with string instruments and folksy, suspenseful undertones, "Ego" is pleasantly unorganized and very catchy. The vocals are spoken rather than sung and the lyrics tell a story that moves in and out of happy and suspenseful emotions. "Place and Time" is short and filled with angst. The pairing of punk vocals with light string melodies and folk beats make for an equally catchy track.
The more delicate "Progress" is pretty, the vocals soft and sung like a love song or lullaby. It builds momentum moving towards each chorus, slowing back down for every verse. The fast, upbeat punk sound promptly returns with "Look Out!" Another unorganized, fun track that sounds like something you might hear at a British pub. Ironically, the next song "Slow It Down" is equally as fast, using a lot of shouting and more somber tones to convey "I'll leave the world so far behind, oh slow it down, slow it down." It also has a long, instrumental bridge where we get to hear Amen Lucy, Amen's version of a jam session.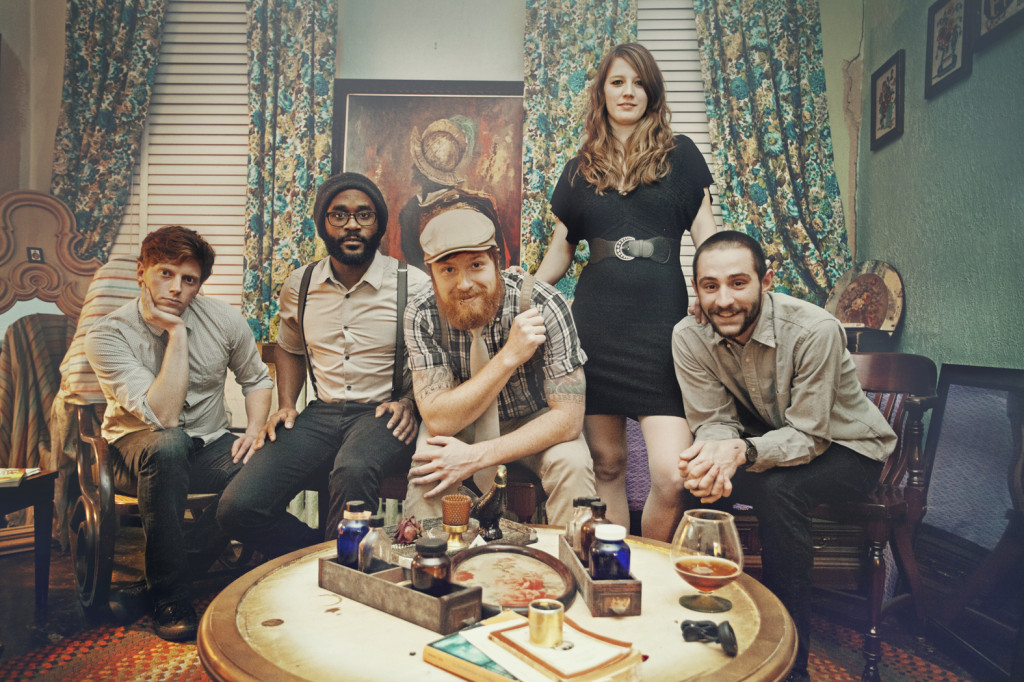 "Inner Core" introduces an island sound, slowing things back down with introspective lyrics like "f*ck making sense of it, I'm just enjoying my time." Adding in more suspense, "At Least for Now" is equally leveled with reflective lyrics like "One day we'll all be gone and no one will find what we leave behind. No one will find."
Folk with a southern vibe, "The Water" is much like "Ego" in its disorganization. Short and fast, the song's vocals are spoken, sometimes shouted, and the rhythm is fun and unpredictable. Similarly, "World as Geography" is playful, using string melodies to create a soft sound. It tells a tale, the chorus chanting "what I wouldn't give to fly, to the amazement of the bewildered passers by."
In definite contrast, Ashore for the End opens with suspenseful punk and ends with softer acoustics. The album's last track, "I Will Swim" is reflective, the vocals entirely sung and the rhythm completely organized. It makes for a nice closing, drawing distinction from the unorganized, shouted tracks before it.
After listening to their debut album, I am excited for Amen, Lucy Amen's future. The charmingly uncoordinated tracks and blend of folk and punk draw out a new sound from the modern indie/folk scene. I can't wait to watch this band rise.
Key Tracks: "Progress", "Slow It down", "The Water"
Artists With Similar Fire: The Decemberists / Pokey LaFarge / Dropkick Murphys

Amen Lucy, Amen Facebook
Brave New Records
– Reviewed by Michelle Morgan