Hospitality


Trouble
Merge Records [2014]



Fire Note Says: Hospitality's Trouble happily doesn't live up to its title.
Album Review:
I've listened to Hospitality's sophomore LP Trouble many times and it is still difficult to get a feel for this album. At times psychedelic, at others poppy, and yet at others rocking, Trouble doesn't lend itself to a clean description or explanation. This usually works in favor of the album but sometimes holds it back from being truly memorable or groundbreaking.
Hospitality is a trio from Brooklyn consisting of Amber Papini (vocals, guitar), Brian Betancourt (bass), and Nathan Michel (percussion). Their debut album was favorably received two years ago and this effort is a darker outing than their first effort. Trouble starts with the upbeat and mildly trippy "Nightingale," which tells the story of a fishing outing. Papini sings with a lilting snarl (or perhaps a snarling lilt) that sounds no-nonsense and straightforward. I found many of the lyrics on Trouble to be dense with metaphor and vivid images, and "Nightingale" sets that tone. Guitar and synthesizer provide mellow grooves that occupy most of the song – vocals are scant and thus have more of an oomph when they occur.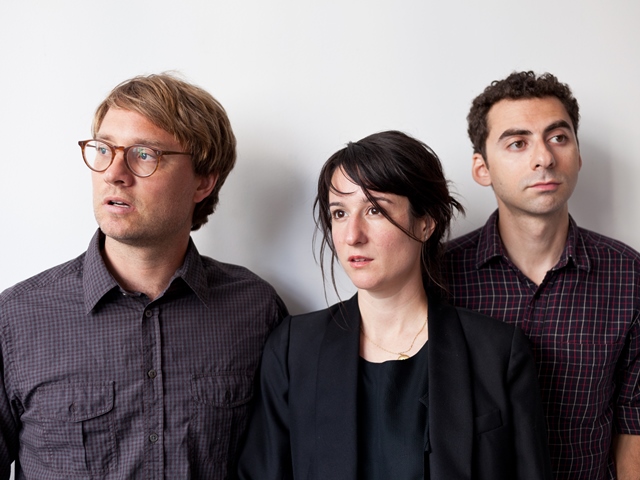 I kept hearing influences from some of my favorite bands on Trouble. "I Miss Your Bones," my favorite song to be found on the LP, sounds like the best song Spoon has put out in years. The hook is there; the piano is there; the guitar riff is absolutely Spoon-esque. I recommend "I Miss Your Bones" to anyone who's waiting for Spoon to put out some new stuff. Because of Papini's voice it's also easy to compare Hospitality to Beach House (on the mellow end of the spectrum) and Best Coast (on the caffeinated-pop end of same spectrum). While Hospitality leans towards the stylings of Beach House (see "Nightingale" and "Sunship") there is enough pop to keep you happy (see "It's Not Serious" and ""I Miss Your Bones).
As I stated above, Hospitality's new album Trouble has gotten more than the typical amount of spins for this review. Each song has a moment that sparkles (like the subdued vocal run in "Call Me After") and the album flows so well. Yet there is not a moment that excited me or grabbed my attention. Even one of those moments would make Trouble a must-listen in my book, but for now it falls just short. However I doubt you'll be disappointed if you give Trouble a chance.
Key Tracks: "Nightingale," "I Miss Your Bones," "It's Not Serious"
Artists With Similar Fire: Beach House / Spoon / La Sera

Hospitality Website
Hospitality Facebook
Merge Records
-Reviewed by Matthew Heiner
Latest posts by Matthew Heiner
(see all)