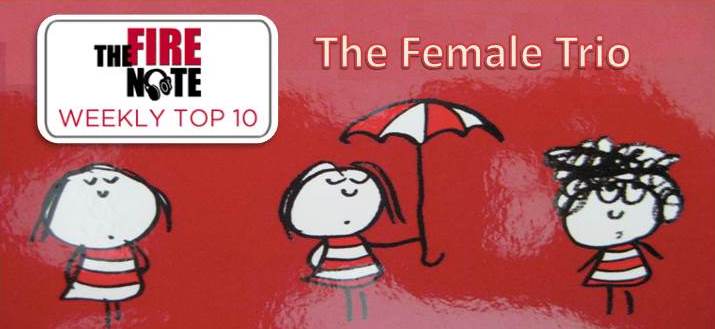 We got word yesterday that one of our well respected all female trios, Vivian Girls, split up so The Fire Note thought it was perfect timing to name some of our favorites. I know we missed some so feel free to shout out some others in the comments.
#10

Haim
Haim is probably the hottest current female trio out there right now. I don't really get it. I have listened to the album several times and still do not hear it. Regardless, I can admit that I just can't get on board here but plenty of people with credibility seem to understand so that is why they are number 10. I will let you be the judge!
#9

Some Girls
Not be confused with the hardcore punk band from California with the same name, Some Girls was a trio led by Juliana Hatfield. I have always liked Hatfield and this band was a lighthearted indie rock affair that released two records back in the mid-2000's. Both are still good listens today.
#8

The Like
The Like was an indie rock band from Los Angeles, California that started out when they were 15 years old and were all three daughters of music industry veterans. I remember seeing The Like open for Muse years ago which changed my opinion because they rocked it out. The band eventually became a foursome and has been on a hiatus for several years now.
#7

Slant 6
They only lasted 3 years but Washington DC's Slant 6 released two solid punk records on Dischord back in the early 90's. The group also had Christina Billotte which had played with Mary Timony (Wild Flag, Helium) in Autoclave. I would have liked to hear one more record from this trio as their energy was always well balanced.
#6

The Eyeliners
The Eyeliners are a pop-punk trio from Albuquerque, New Mexico. The band plays fairly straight up right in your face high energy punk which I always like. They have not released a record since 2005 but are not officially broke up. The funny thing about the video is that the Eyeliners recruited a dude for drums – how dare them! Oh well, they also get Joan Jett on guitar and vocals for the party here so who is knocking them!
#5

Luscious Jackson
Luscious Jackson went back n forth as a trio but officially started with just three members so we are going to roll with it. They were a big part of the alternative nation explosion movement and were on the Beastie Boys Grand Royal label. The group recently reformed last year and released a new album titled Magic Hour.
#4

Vivian Girls
The Vivian Girls is the reason we did this list in the first place. Here is a band that influenced an entire new set of musicians with their lo-fi indie rock. Definitely sad to see the end but the ladies will continue to focus on other projects – Katy with La Sera (new album due later this year), Cassie with The Babies and solo work, and Ali with Upset (TFN Review).
#3

Bratmobile
Bratmobile was a first-generation "riot grrrl" band and was up in arms way before it was cool. They had three stellar records that have a very timeless sound which plays as fired up today as it did 14 years ago.
#2

Cub
Cub was a great indie rock band from Canada that released one of the more fun albums in 1996 with Box of Hair. Their catchy tracks and full on attitudes only increased their appeal. The just over 2 minute "Freaky" should be enough to sell you as its ferocious delivery just sticks with you.
#1

Sleater-Kinney
Can there be any other number 1? The answer is no as Corin Tucker, Carrie Brownstein, and Janet Weiss defined riot grrrl. Tucker has one of the strongest female voices of all time and the trio produced powerful album after powerful album. The good news is that after some serious time apart all signs are pointing that Sleater-Kinney will be getting back together soon for another record – here is hoping that the rumor is true!
-Feature by Christopher Anthony
Latest posts by Fire Note Staff
(see all)