Electric Eye


Pick-Up, Lift-off, Space, Time
Klangkollektivet/Fuzz Club Records [2013]



Fire Note Says: Electric Eye doesn't blink with strong debut Pick-Up, Lift-off, Space, Time
Album Review: In the world of rock 'n' roll the electric eye is usually an omniscient being of fuzzy/metal destruction; just ask Judas Priest, FUZZ, or Black Sabbath. But under the Electric Eye moniker something different strides this way. Born in Norway, Electric Eye builds an expansive sonic landscape of kraut-inspired space, rock, blues, and little bits of Indian music. Yes, their debut Pick-up, Lift-off, Space, Time was released way back in April of 2013, but with good reason the hype grew, resulting in noticeable press pick up and a showcase at 2014 SXSW that only helped to expose this growing tour de force in Norway's long-lasting tradition for psych music.
What makes Electric Eye's debut so electrifying? Well I've praised bands like Holy Wave, Morningbell, Rose Windows, and Tame Impala in the past for keeping their influences close all while keeping the listener engaged. It's that same strategy that makes Electric Eye work—across all seven compositions I found myself enjoying something new with each spin. "6am" starts out strong and doesn't let up—a driving instrumental, the influences here range from The Flaming Lips to the unrelenting crunch of St. Vincent, as well as the modern day "Hindi rock" of Elephant Stone. "Lake Geneva" takes a slower approach with subtle hints of Zeppelin's Black Mountain Side" affixed to a drone similar to those explored by psych rockers like Moon Duo or Far-out Fangtooth. "Tangerine" has to be one of the more exciting and interesting tracks on Pick-Up, Lift-off, Space, Time. With its' complex structure it could almost be re-titled "See Emily Play Within In You/Tomorrow Never Knows." The heavy influences from Barrett-era Floyd, along with its' nod to The Beatles, become apparent immediately. Just when you think the track is running out of steam its nine-minute bulk is reinvigorated with the vigor and enthusiasm of mid-period Who.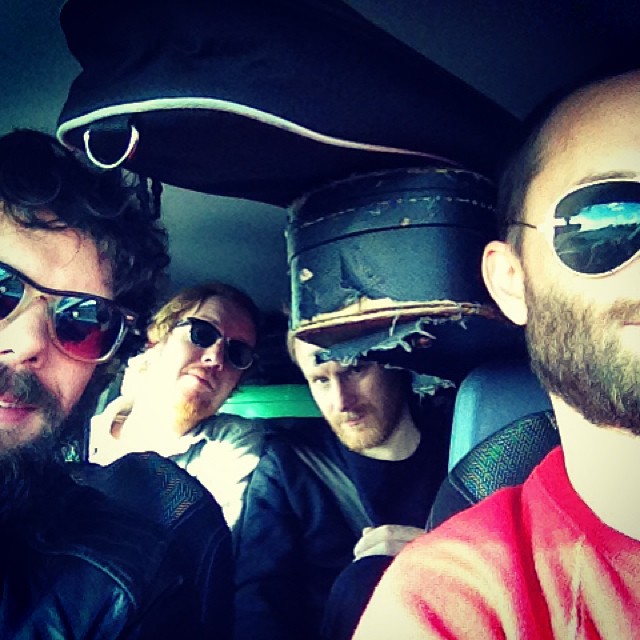 All I can talk about with Pick-Up, Lift-off, Space, Time is influence after influence, both old and new. Electric Eye continues the trend with the last half of Pick-Up, Lift-off, Space, Time as well. "Morning Light" goes all-in with its
Flaming Lips stylings. Taking what seems to be a direct influence from the harsh sheen of The Lips Embryonic LP, "Morning Light" takes the robotic, constructed drive of "Convinced Of The Hex" while remaining quite melodic at the same time, while final track, "Electric Eye" manages to take the same pace, toning it down to a lucid, almost tropical beauty that acts as a fitting end.
Electric Eye's Pick-Up, Lift-off, Space, Time manages to stay unique all while borrowing from a pastel-colored mix of different psychedelic decades, taking song length and making that an advantage instead of a hindrance. Differentiating themselves from many other bands in the Norway Psych scene, it's clear that Electric Eye has done their homework.

Key Tracks: "6am," "Tangerine," "Morning Light"
Artists With Similar Fire: Elephant Stone / The Flaming Lips / Wooden Shjips
Electric Eye Website
Electric Eye Facebook
Klangkollektivet
Fuzz Club Records
-Reviewed by Christopher Tahy
Latest posts by Christopher Tahy
(see all)