Sleepy Sun


Maui Tears
Dine Alone Records [2014]



Fire Note Says: San Francisco psych stalwarts return with an energetic and trippy fourth album.
Album Review: Okay, so there's this five piece band out of San Francisco named Sleepy Sun. Quick: guess what they sound like! Yup. They sound exactly like that. And then some. There's California hippie dripping from every one of Maui Tears' nine tracks. Reverb-soaked vocals, acid rock guitar stylings and a stoner-paced heartbeat mark most of what Sleepy Sun does. But they do it well. If you've never spent time with them – think Bardo Pond or The Besnard Lakes and you're close. This being their fourth album, they've learned a thing or two about setting the controls to the heart of the sun and back again. This is their master class.
Sleepy Sun's first two albums were powered by the girl/boy vocals of Rachel Fannan and Bret Constantino but with Fannan's departure in 2011, third album Spine Hits suffered from an acute case of identity crisis. There was little of the warmth and charm of debut Embrace or follow-up Fever. Instead, Sleepy Sun struggled to recreate their sound but forgot to write memorable songs. Maui Tears corrects this and they now appear comfortable as a boys-only club. No, they haven't turned into a crotch-rock band but the muscular underbelly of their best work was always obscured by more than the haze of echo and shoegaze. There was always a tendency to sequence songs in such a way as to apologize for their Sabbath/Zeppelin moments with softer prog/folk. The stoner rock no longer feels forced and the quieter passages are more integrated into the whole. Take "Outside" for example. A lazy intro gets injected with distorted guitar leads that propel what could have been a bad Band Of Horses rip-off to greater, more expansive heights. Or listen to the second track, "Words." That it begins with gentle acoustic guitar is no surprise as the song follows a rocker, the excellent opener "The Lane." That it invokes Fleet Foxes is something else entirely.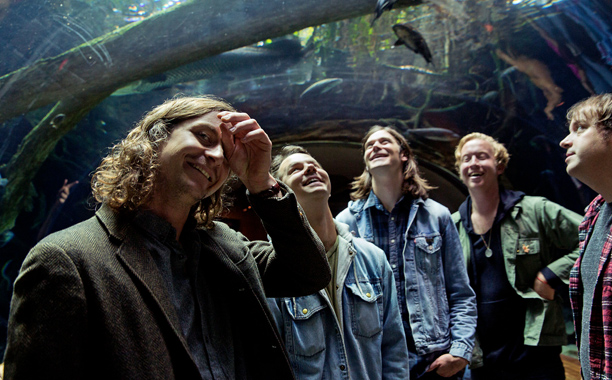 The Zeppelin riffage of earlier records is in short supply – primarily to be found on set highlight "11:32." What has replaced 70's rock as inspiration throughout is the confident voice of Constantino and a slew of contemporaries he successfully channels – from Jim James (on the fluid space jam "Theilbar") to Ben Bridwell (much of the rest of Maui Tears.) But it is not only the singing that sounds more confident. Twin guitarists Matt Holliman and Evan Reiss really lock in and find great chemistry while the rhythm section of Brian Tice and Jack Allen play with an unassuming ease. This is best demonstrated on "Galaxy Punk" where all Sleepy Sun's strengths get distilled into one terrific single where they almost sound radio friendly. The opposite end of their sonic spectrum is the epic title track which closes the album on a very high note. There aren't too many bands that can make a ten minute song fly by in seemingly half that but they accomplish it without breaking a sweat.
Far from perfect and still lacking the brilliant Rachel Fannan, Maui Tears will probably not be remembered at the end of 2014 by many critics making year end lists and that's really a shame. So they're not doing anything all that new here but what the hell – they do it right. The production is just the right kind of mid-fi and the songs are good. Really good. Sometimes really good is good enough for me. And it's way better than Spine Hits. You could do a lot worse than spending some quality time with these guys. Even if you already know what they sound like.
Key Tracks: "Galaxy Punk", "The Lane", "11:32"
Artists With Similar Fire: Bardo Pond / Fleet Foxes / The Verve

Sleepy Sun Website
Sleepy Sun Facebook
Dine Alone Records
-Reviewed by Scot Lade
Latest posts by Scot Lade
(see all)