Upset


She's Gone
Don Giovanni Records [2013]



Fire Note Says: Upset play pop-punk like it should be – tight and catchy!
Album Review: Here is a record I sat on stupidly last year. It can be a little overwhelming at times around Fire Note headquarters as releases roll in and sometimes we miss one that should have made the page. Upset is a new three piece that has plenty of indie rock experience as lead singer Ali Koehler has been best known as the drummer of Best Coast and the noisy punk trio Vivian Girls. She is joined by Patty Schemel (of Hole) on drums and Jennifer Prince (of La Sera) on lead guitar and vocals. The record is an upbeat pop-punk album that barely slows down for its 30 minute run.
Given the genre and players you might think that Upset will sound too familiar but the band finds its own niche as She's Gone is not as pop as Best Coast, more straightforward than Vivian Girls, not as rock as Hole and more complex than La Sera. In fact, Upset truly combine forces of their experiences for a record that has gritty guitar, solid drumming and power pop vocals that stand out in front while creating an overall mid-90's alternative nation vibe. When the group all sings on the title track you can't help but tap your feet while "About Me" features a little giggle as it starts off which captures the good time nature of this album. That really sums up the record as it has nothing to hide – you either get it or you don't.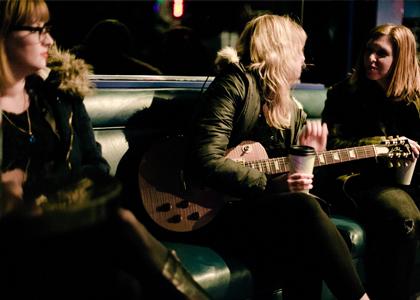 The only real issue I have with She's Gone is the same issue that many pop-punk groups before Upset have run into. Even with its short play time the record starts to feel very repetitious as you move into its final third. There are also some songs that lyrically don't hold up like "Don't Lose Your Dinosaur." But for a track like "Dinosaur," Upset rebound quickly with the barn-burner "Never Wanna" which pools all of their strengths for a catchy 2:22. Especially in small doses, Upset are a great distraction from the outside world with their really tight arrangements. Clearly, She's Gone is not going to have a global impact or alter the scene but Upset still are a notch above many in the genre. If you are looking for something new and really enjoy the female driven pop-punk then Upset have just provided the newest record to be added to your collection!
Key Tracks: "She's Gone," "Never Wanna," "Game Over"
Artists With Similar Fire: That Dog. / Speedy Ortiz / Tuscadero

Upset Website
Upset Facebook
Don Giovanni Records
– Reviewed by Christopher Anthony
Latest posts by Christopher Anthony
(see all)