Painted Palms


Forever
Polyvinyl Records [2014]



Fire Note Says: Painted Palms have plenty of "moments" with their debut Forever.
Album Review: I don't know about you but I always feel like I should be more in touch with my cousins. I have one that lives close but most are over 600 miles away. Well distance didn't stop cousins Reese Donohue and Christopher Prudhomme from creating the band Painted Palms. After growing up together, Donohue eventually moved to San Francisco, while Prudhomme stayed near New Orleans but since we now live in the age of the Internet, the two simply sent ideas and music back n forth which is how Painted Palms is alive and well.
Their Canopy EP was discovered by of Montreal's Kevin Barnes and the duo has been out on tour with Braids, STRFKR and of course of Montreal, so their debut was the next logical step. Painted Palms present a very upbeat sound that has big pop moments that combine a swirling 60's psych with a very energetic electronic pulse. This works well on the single "Spinning Signs" as the track has Beatlesque vocals that are intertwined with the synths and driving electronics. This is Painted Palms strength as the title track follows this same pattern with quality results.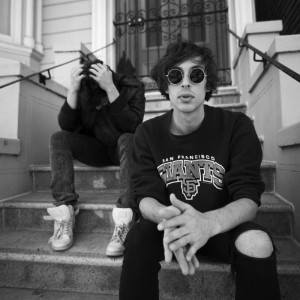 Elsewhere on Forever, Painted Palms struggle more to keep things memorable but the group consistently shows real potential and is not afraid to try some different avenues. The over 5 minute "Soft Hammer" is the longest song on the record and has a flowing soft croon vocal in the front and back that is almost like a lost Morrissey track but its middle is filled with fuzz hovering over the simple instrumentation. It does not quite work all the way but you can give them credit for being adventurous. Other songs like the repetitive and glossy "Hypnotic" and the bouncy and bubbling "Not Really There" quickly wear out their welcome.
Like many debuts, Painted Palms have plenty of room for improvement but there are definitely enough "moments" on this album to keep fans of the EP interested. It is probably not a record that will draw mass appeal or move them from an opening act just yet but it does have a strong enough base to allow growth and make it worth seeing where Painted Palms go next.
Key Tracks: "Retreat!", "Forever", "Spinning Signs"
Artists With Similar Fire: The Big Pink / Depeche Mode / Washed Out

Painted Palms Website
Painted Palms Facebook
Polyvinyl Records
– Reviewed by Christopher Anthony
Latest posts by Christopher Anthony
(see all)