Night Sun


"No Pressure" b/w "On My Way"
Burger Records [2014]


What is the purpose of the 7-inch? It used to be what all of the hit singles were pressed on. Now it is a way to get a small sample of music out there and in most cases build up some hype. I love when a simple plan like this comes together as the new Night Sun 7-inch for "No Pressure" already has me itching for a full length album. The garage soul band consists of Cole Alexander and Joe Bradley from The Black Lips, Danny Lee Blackwell of Night Beats and former CeeLo Green collaborator Curtis Harding on vocals.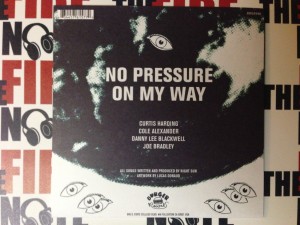 The A-side, "No Pressure," will make you want a full length now with its engaging pulse and steady drum beat. Every time Harding snaps, "No Pressure," it makes me want to turn the volume up and make sure I have the repeat button ready. The B-side is "On My Way" and it is a much slower groover that has a blues and vocal vibe similar to an earlier Black Keys track. The theatrical harmonies in the background really give this song its edge.


The jacket here is a normal cardboard cover with art on the front and back. This white 7-inch was limited from Burger Records but the label did not have pressing numbers available. The white was quickly gone but you can still pick up a black variant of the 7-inch at Burger.
Night Sun Website
Night Sun Facebook
Burger Records
-Feature by Christopher Anthony
Latest posts by Christopher Anthony
(see all)