Julia Holter


Loud City Song
Domino Records [2013]



Fire Note Says: LA art-pop songstress creates a near masterpiece with her third LP.
Album Review: Julia Holter certainly doesn't shy away from big subject matters. Her first album (2011's Tragedy) was based on Eurypides' Hippolytus and last year's brilliant Ekstasis drew from Virginia Woolf (among others.) This time around the California Institute Of The Arts graduate found inspiration from the 1944 French novella Gigi and Hollywood's glorious 1958 musical starring Leslie Caron. Though not a direct retelling of the Collette story of a teenager being groomed as a courtesan in turn-of-the-century Paris, there is one scene that struck a nerve with Holter. The scene in question involves the whispered gossip in a restaurant called Maxim's as couples enter. There is voyeurism and hypocracy aplenty even among polite members of society's upper crust. And Holter uses this scene as the backbone of an amazing record.
If all this sounds a little too academic or fey, relax. One needn't be a scholar to enjoy Loud City Song. It works just fine outside the context of its heady conceit. Hushed, fragile and extremely subtle, this album took me forever to get a handle on. I knew I liked it but it really took months for me to crack the code. As a classical music composition major, Holter does not create typical pop songs. But they are not too high-brow to listen to as nice background music. It's just that I instinctively knew there was more to Loud City Song than that. The fact that it begins with the slow, brooding "World" doesn't help. Her Bjork-like delivery gives it an instant recognizability but the instrumentation here (and throughout) is strange. Horns, strings, double bass. It's as if she wants you to look one way while performing acoustic sleight of hand. Though quiet and unassuming, there is nothing quaint in her observations of her hometown, LA. The juxtapostioning of Gigi and life in a modern big city is unsettling in a David Lynch kind of way. And that is the engine that drives the album.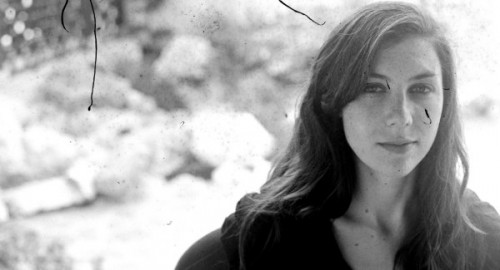 The twin songs "Maxim's I" and Maxim's II" provide the Cliff Notes: "Into Maxim's we will see them walk/Will they eat a piece of cheese or will they talk/When they're loud enough we can hear their words/By night we are inquisitory birds." There's a decidedly nocturnal feel that runs through her work as a whole and this one, her first in a real studio, clearly lives at night. "Horns Surround Me" employs found sound, field recordings, ostinato trumpet and a solid kick/snare beat. It's unlike anything I've ever heard and its impact is huge. "In The Green Wild" is a jazzy tune where Holter uses here voice as percussion over a double bass while strings swirl dizzingly about. Then we get a remake of Barbara Lewis' 1963 soul hit "Hello Stranger" and it's recast as an ambient drone with a 60's heart beating underneath.
She even gives us a fairly straight forward pop song towards the end of the record in "This Is A True Heart" and it acts as an apology for all the heavy-handed, book-smart cabaret that preceded it. But the brightness is short-lived as closer "City Appearing" returns to dark surrealism and old meets new texture. Perhaps that's what I didn't understand at first – as rooted in the past as Holtyer's work seems to be, it is really very much in the present. Nite Jewel's Cole M. Grief-Neill (who is also a former member of Ariel Pink's Haunted Graffiti) can take some of the credit for producing such an album. Making sense of an artist like Holter and her undeniable gift is no easy thing. But ultimately the real winner is the patient listener who gives this one more that a few spins.
Key Tracks: "Maxim's II", "In The Green Wild", "This Is A True Heart"
Artists With Similar Fire: Juliana Barwick / Talk Talk / Laurel Halo
Julia Holter Website
Julia Holter Facebook
Domino Records
-Reviewed by Scot Lade
Latest posts by Scot Lade
(see all)