Bruce Springsteen


High Hopes
Columbia Records [2014]


Fire Note Says: Springsteen once again shows his uniqueness among the great rockers of our era.
Album Review: You don't get very far into the new Bruce Springsteen album before you realize that this is not "Wrecking Ball II." First, the opening title track, an up-tempo splash of positivity, was written by Tim Scott McConnell, who originally recorded it on his 1985 solo album and again in 1990 with his band The Havalinas. Two things: This is a great song, hell; it's a great "Bruce Springsteen" song. But why is one of the best living songwriters covering another artist on his new album? For the answer, I guess we just have to go back to that first thing.
And there are two more covers on this disc. "Just Like Fire Would," by Chris J. Bailey, also has the kind of pop anthem energy like "High Hopes" that makes it a great "Bruce" song, as if to suggest that Springsteen's hip to start a street party. But by the time you reach the plaintive closing ballad, "Dream Baby Dream," by Martin Rev and Alan Vega, it's clear he's taking the entire human experience seriously, love and work, hate and loss, life and death, the whole enchilada.
Then, Bruce covers Bruce. Twice. High Hopes contains two Bruce Springsteen contributions from previous points in his career, both noteworthy for their political content. Here they reinvent potent artful statements for a fresh context while allowing guitarist Tom Morello to contribute his unique sense of electronic bluster to the work of the ever growing E-Streeters.
Morello has already produced a stellar cover of "The Ghost of Tom Joad," with Rage Against the Machine, but here he manages to punctuate Springsteen's once quiet ballad in a way that would work in the biggest arenas while still holding to the song's original tone. Morello plays the expected spiraling, noisy solos that people either love or find annoying (I'm in the love camp), and duets on the vocals, singing one verse.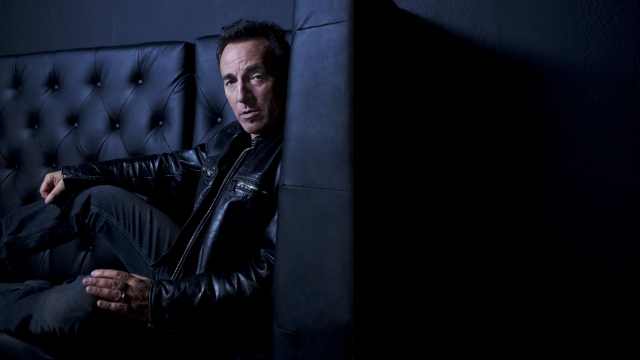 If there's a defining presence that gives focus to Springsteen's 18th studio album more than any other, it is Morello's insinuation into the mix, blending his signature guitar sound in among the E-Street chemical equation that allows it to remain stable, if explosive when it wants to be. "American Skin (41 Shots)" was considered controversial for its take on racial profiling and police violence, but here it takes on a larger vision that includes the prominence of gun violence on the American scene, whether in mass shootings or the everyday onslaught of gun accidents, killings and suicides that we've learned to ignore.
Much of the rest of the disc comes from songs left on the editing room floor from previous outings. It's hard to imagine great songs like "Harry's Place" and "Frankie Fell In Love" being cut from any album, but clearly not all leftovers are created equal.
Sometimes folk speculate on all the spiritual and biblical references that find their way into Springsteen's lyrics, something he started working into live shows a few years back when he embodying a Rock & Roll Revival Preacher as the shows reached their climax. Here, "Heaven's Wall" provides the crowd-warming stump sermon, while "This Is Your Sword," converts an old Sunday School Bible drill which carries the "power of love revealed" in a folk song with a Celtic lilt.
Springsteen is unique among the great rockers of our era, in that the work of his latest albums has the potency and energy of the groundbreaking albums of his earliest creative onslaught. So much so that even a record like "High Hopes," produced from songs borrowed and revisited bits from here and there, manage to connect and deliver on the titles' hope to lift our spirits.
Key Tracks: "High Hopes," "Frankie Fell in Love," "Ghost of Tom Joad."
Artists With Similar Fire: Tom Petty & the Heartbreakers / Bob Dylan / Elvis Presley
Bruce Springsteen Website
Bruce Springsteen Facebook
Columbia Records
– Reviewed by Brian Q. Newcomb
Latest posts by Brian Q. Newcomb
(see all)