The Dead Weather


"Open Up (That's Enough)" b/w "Rough Detective"
Third Man Records [2013]


This 7-inch is the first taste of new Dead Weather material. In a unique long-term strategy, they are the first of a series of two-song sets The Dead Weather will be releasing up until 2015, at which time the singles–plus numerous other album-only tracks–will be collected into a full album.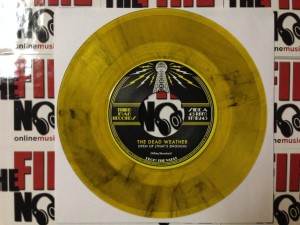 The A-side, "Open Up (That's Enough)" is a true welcome back for the Dead Weather and singer Alison Mosshart's powerful and brooding vocals. There is a reason they call her Baby Ruthless. The song starts off very slow but once the assaulting guitar riff from Dean Fertita takes place you are hooked and the song just smolders. I will also predict this killer riff might just make our 2015 best of list because it is that powerful. "Rough Detective" is the B-side and it features Jack White on vocals leading this pulsing rock track. Mosshart shares some of the lead here with a distorted vocal and once again the vibe is all rock. Both of these tracks get me really excited for the new record – too bad we will need to wait!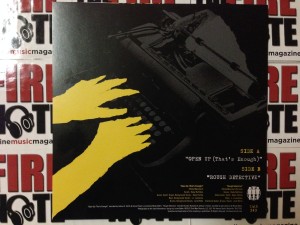 The jacket here is a normal cardboard cover with art on the front and back. This 7-inch is a transparent yellow jacket vinyl and limited to Third Man Records Vault subscribers. This vault package is way gone so you will need to turn to the marketplace if you want a copy.

The Dead Weather Website
The Dead Weather Facebook
Third Man Records
-Feature by Christopher Anthony
Latest posts by Christopher Anthony
(see all)