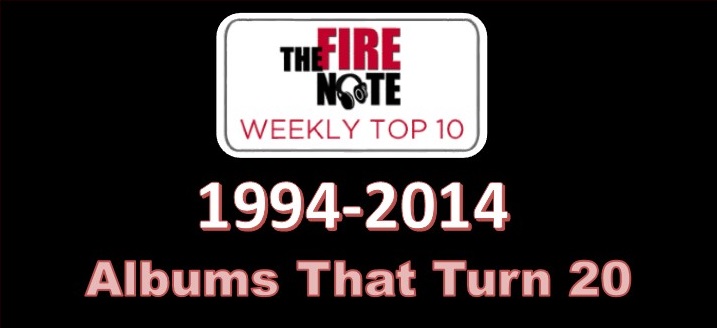 1994 was a great year for music and looking back it also was a year that started some major trends. It is hard to believe that the following ten albums turn 20 this year and to be honest it was difficult to narrow down this list.
There are plenty of albums that could show up here. There are more critically praised records, there are more off the grid indie records, and most certainly bigger selling albums that could have landed on this list.
To be honest, I only had one criteria – my record player. 20 years later do the following ten albums still find my speakers. The answer of course is yes – enjoy!
Honorable Mention

Soul Coughing


Ruby Vroom
Slash/WB Records
September 27, 1994


Lead singer Mike Doughty may have hated his time with Soul Coughing but their 1994 debut was refreshing, innovative and fun. Jazz, funk, rock, hip-hop – it is all here on Ruby Vroom. "You grab the ankles and I'll grab the wrists" says it all!
#10

Jawbox


For Your Own Special Sweetheart
Atlantic Records
February 8, 1994


Jawbox frontman J. Robbins is someone that I always believe brings quality to the table. Either with his own bands or something he has produced, I think he just has an ear for great music. It all started here with Jawbox and on this third album they make it all work. This record's melodic hooks and brooding swagger still gets me every single time.
#9

Green Day


Dookie
Reprise Records
February 1, 1994


Punk rock goes mainstream – call it a sellout all you want but Dookie was the perfect poster child for the catchy genre and paved the way for a slug of other bands. Taking it for a spin today the 40 minute record still sounds eager and carefree. It also sounds great loud!
#8

Drive Like Jehu


Yank Crime
Interscope Records
April 26, 1994


This record should have never been released on a major label. Why? Because Yank Crime is a supreme emo record in the best way as its guitars are sharp and loud while its vocals are high throttled and direct. It was too out there for 1994 and Interscope had no idea what to do with it. The group also had John Reis and Rick Froberg which both were in Hot Snakes. Reis was also responsible for several other great bands like Rocket From The Crypt, Sultans and now The Night Marchers while Froberg currently is in Obits.
#7

Beck


Mellow Gold
Geffen Records
March 1, 1994


Mellow Gold is a record that has no boundaries nor does it stay in one genre. It seems natural to expect this type of work from Beck today but his mainstream debut in 1994 was special for its time. Mellow Gold still has such a great delivery of indie weirdness with songs like "Soul Suckin Jerk," "Beercan" and "Mutherfuker." Truly a fun ride every time you put it on!
#6

Beastie Boys


Ill Communication
Capitol/Grand Royal Records
May 24, 1994


Where to start with this one! First I still think "Sabotage" has one of the best videos of all time. The song is a perfect 3 minute mix which also highlights why this album is so good. The Beastie Boys perfectly blended their NY hip-hop with their punk rock roots for one spectacular and muscular listen.
#5

Weezer


Weezer
Geffen Records
May 10, 1994


Here is a new band produced by Ric Ocasek (Cars) and a really simple album cover. You really didn't think that much about it till you heard the intro track "My Name Is Jonas" and all of sudden you were hooked. For many people this "Blue" album was their introduction to emo and indie pop which blew everyone away. The catch is that this album still reigns supreme today and I would say that I have an even greater appreciation for how musically tight this record is!
#4

Sloan


Twice Removed
Geffen Records
August 30, 1994


Please don't say Sloan who? Well of course you can because Canada's Sloan were totally mismanaged be Geffen when this album was released as the label was really into the Grunge movement at that point and clearly Twice Removed was not that kind of record. Funny side note about the lack of interest was that the lyrics for first track "Penpals" were taken from broken English fan letters to Kurt Cobain. Go figure! A different time I believe this album would have been big in the States. Witty lyrics and catchy melodies still make this record one of my absolute favorites from 1994.
#3

Jeff Buckley


Grace
Columbia Records
August 23, 1994


How many adjectives can you use for the flawless singing on Grace? Buckley's cover of Leonard Cohen's "Hallelujah" is still one of the best out there hands down. Jeff Buckley is an artist that I believe would have continued to produce great records but tragically he drowned in 1997. Does that make Grace even more special? Absolutely, but just one listen to it will prove there was so much more to give.
#2

Oasis


Definitely Maybe
Epic Records
August 30, 1994


The rebirth of Britpop started with this record and it helped many remember that guitar bands existed outside of the States. From the cocky confidence of "Rock 'n' Roll Star" to the cool slow guitar strum intro on "Supersonic" this is an album that never tires. Singer Liam Gallagher once said that "Oasis were bigger than Jesus and will be as big as the Beatles if not bigger." I don't think they made that goal but Definitely Maybe was a great start!
#1

Guided By Voices


Bee Thousand
Scat Records
June 21, 1994


A lo-fi band from Dayton, Ohio created one of the best indie records of all time. Yeah that happened! Bee Thousand is not a record many people get after one listen but once they give it time the album typically sinks in. It still amazes me today how an album of 20 short tracks can contain so many spectacular hooks and melodies. Its poetic charm and lyrical wordplay help each song fit together so perfectly that it still is a must listen for me today. All we can do now is hope for a nice vinyl repress to celebrate this greatness!

-Feature by Christopher Anthony
Latest posts by Christopher Anthony
(see all)