FUZZ


Live In San Francisco
Castle Face Records [2013]



Fire Note Says: The Live In San Francisco series keeps cooking with the ever burly FUZZ.
Album Review: I'm a huge FUZZ fiend. Not only was their debut s/t album something to get excited for (TFN Review), but the collection of 45s leading up to its release only excited the FUZZ fervor. That's why FUZZ's Live In San Francisco hit me with a slight amount of bother. The energy is there and transitioned into the live set very well; it was recorded on Ty's birthday too. But does the four song live EP stack up in the long run? Does it make a compelling argument like the inaugural, fantastic 13-track White Fence Live In San Francisco (TFN Review)? While it might be a bit hard to swallow, FUZZ doesn't disappoint, but they do keep the set list a bit on the trim side.
If you've never heard FUZZ before this live mini-album could easily incite a conquest for more. But this is also an album worth having for people like myself who have a hefty chunk of the FUZZ catalogue. This trio of stoned longhairs still rips; Ty's vocals take on a careless, strained momentum that pushes the energy when necessary, Mootheart quakes the crowd with every strangled power chord and scuzzy hook churned on the guitar neck, and Cosio locks everything down and firmly lodges it in the groove. All of this is made very apparent by the s/t LP too, and that's my main problem with the fun but semi-predictable set list. "This Time I Got A Reason" still continues to sway with molten vocals and instrumentation, but it goes fairly conservative with the improvisation—Mootheart barely uses opportunities to color outside the lines. "Fuzz's Fourth Dream" keeps its pleasing Sabbath roots and goes hot and heavy with the quick, face melting chord transitions. If you've heard the 45 then a lot of the moves seem telegraphed straight from the wax, though the they do stretch out a bit, giving a glimpse of greatness. "You Won't See Me" also provides a bit of a value—the 45 didn't come with a download card—and remains chewy with its mix of sludgy distortion and creeping sunshine pop. The last track has always been impressive and I'm sure it was a tour de force to see it live as well: "One" blisters out of the gate right away and is one big FUZZ instrumental showcase that stays on par with the studio version.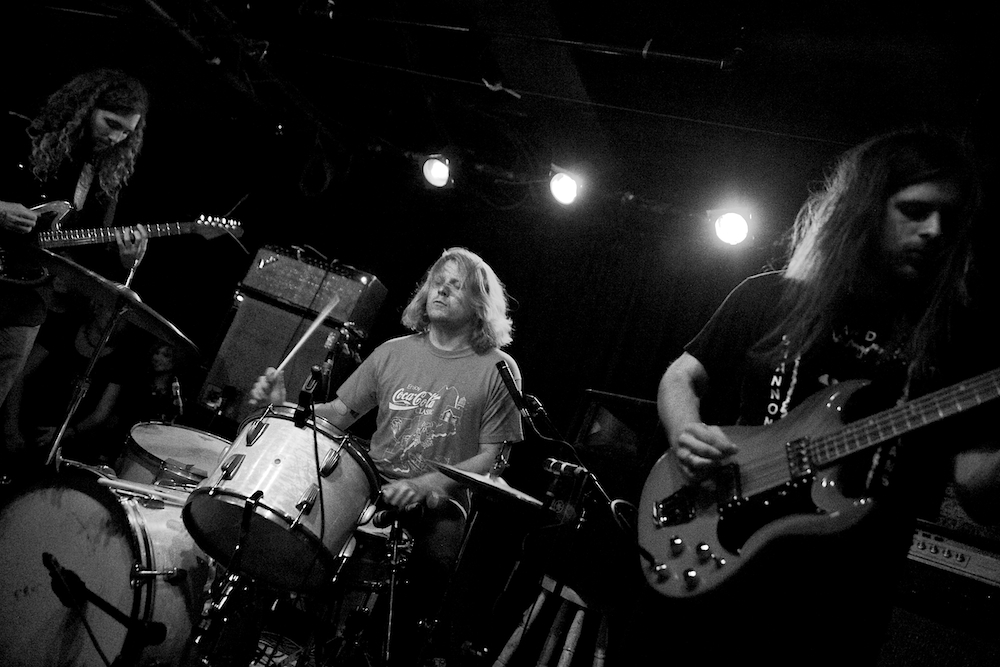 If it sounds like I'm asking for FUZZ to become an extended jam band, but I never said that. I'm just looking for a bit more free-form color from a trio that I know can bring the heat—especially in a live setting. Maybe there were good reasons for the trim content—they did share the bill with two other bands that night, one of them being Thee Oh Sees. FUZZ's Live In San Francisco all comes down to your level of fandom; I have the debut LP as well as many of the preceding 45s, and am not disappointed that I don't have the wax. To the untrained FUZZ ear though, these powerful hooks could spell your doom, and for anyone totally unfamiliar FUZZ Live In San Francisco could make for an easy face-remover.
Key Tracks: "Fuzz's Fourth Dream," "You Won't See Me," "One"
Artists With Similar Fire: Blue Cheer / Hawkwind / Black Sabbath

Castle Face Records
-Reviewed by Christopher Tahy
Latest posts by Christopher Tahy
(see all)