Black Flag


What The…
SST Records [2013]



Fire Note Says: First New Black Flag studio album in 26 years is better than you have heard.
Album Review: It's been 26 years since Black Flag last roared out of SoCal with a new album. 26 years, that's hard to believe isn't it? On their new album, What The…, Black Flag guitarist Greg Ginn has enlisted former singer Ron Reyes to join him on 22 short blasts of punk rock that will stand up against any new band putting out this kind of music today. So you might ask yourself, why have I been reading such horrid reviews of this album? The answer is twofold. One, expectations for a new Black Flag record, particularly one without their last and most famous singer, Henry Rollins, are sky high. Everyone is hoping for another Damaged, well this isn't Damaged. Two, former Black Flag members Keith Morris, Chuck Dukowski and Bill Stevenson, have toured extensively as FLAG, and that band is white hot. The question has been asked, did Ginn only put together this version of Black Flag to either take back the bands legacy from FLAG, or to simply show FLAG who the real Black Flag was and is? The answer is probably a little of both, and then some.
Whatever their intentions may be, Black Flag is still a viable punk band, whose secret weapon always was, and always will be the slash and burn guitar playing of Ginn. Nobody plays like him, even today, nearly 30 years after their last album. His is the sound that defines hardcore, and his playing is as intense as it has ever been on What The…Reyes is not as dynamic a singer as either Morris or Rollins, but he holds his own, and his voice sounds particularly strong throughout the entire record. The songs are interchangeable to be quite honest, they all rock, they all are catchy, they all are super-fast, I could highlight one or all twenty two, it doesn't really matter. What matters is that when you turn this up, you just want to fist pump and stomp around the living room.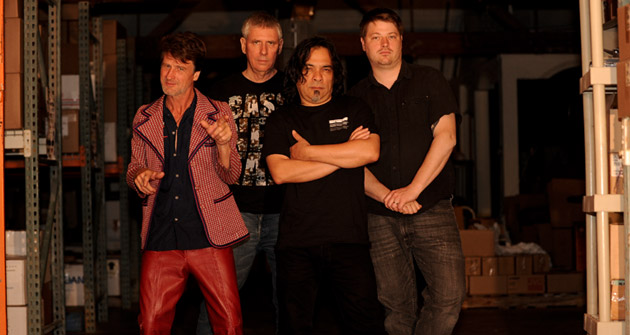 Black Flag has never been a critic's darling band, if you don't believe me, well then go read some of their reviews on allmusic. So it doesn't surprise me that people are bashing this record, hell they have always bashed Black Flag records. That's not the point of the band, they aren't trying to place their record in any year end lists, what they want to do is challenge their listeners, they want to give you something that you don't expect and might not love immediately and ask you to go along for the ride if you dare. They only thing you should expect from a new Black Flag record is not to expect anything, to go in with open ears and an open mind and come out of that listening experience feeling something whether it be intense love or loathing. The point is to feel something visceral, and that hasn't changed since day one with Black Flag, and that's the point of What The….
Key Tracks: "Off My Shoulders", "My Heart's Pumping", "Down in the Dirt"
Artists With Similar Fire: TSOL / Bad Religion / Dead Kennedys

Black Flag Website
Black Flag Facebook
SST Records
– Reviewed by Kevin Poindexter
Latest posts by Kevin Poindexter
(see all)