Thee Oh Sees


Singles Collection Volume 3
Castle Face Records [2013]



Fire Note Says: Thee Oh Sees brandish their catalogue rarities/gems' with the same familiar fun and intensity.
Album Review: I'm a huge Thee Oh Sees fan as Floating Coffin (TFN Review), for me, is a top fifteen of the year. But this isn't going to be a full kiss ass review, it's just a reiteration of why I love Thee Oh Sees so much in the first place. That's why their newest collection in the singles series, Singles Collection Volume 3 is a well-made thirst quench for those looking to get back in. Or for the many that are catching on for the first time or falling in love all over again.
For as deep as the Sees catalogue is, the singles collection acts as the proverbial change/weed nugs/dust devils/what have you between the Sees tattered couch. Collected from Flexi Discs, split 7"s, artists compilations, and elsewhere, these songs come with a practical impracticality, an improper coexisting coexistence, and inconsistent constancy that takes style and tone seriously beyond that experimentation is able to rear its head. Taking all that in stride, Dwyer/Thee Oh Sees fans will find this a very comforting realm. "Ugly Man" caresses familiarity with Dwyer's juxtaposed ability to coo beauty while keeping the ugliness at the forefront-the lazy fu fu fu also scores points. Packing another wallop, a cover of the Sonic Youth's "The Burning Spear" becomes noisily hypnotic. Guitar strings echo the call of sirens and Dwyer channels more Jon Spencer then Thurston Moore. "Wait, Let's Go" feels fun as it goes for airtight psych-pop bearing a close resemblance to contemporary Mikal Cronin or Ty Segall's folkier moments.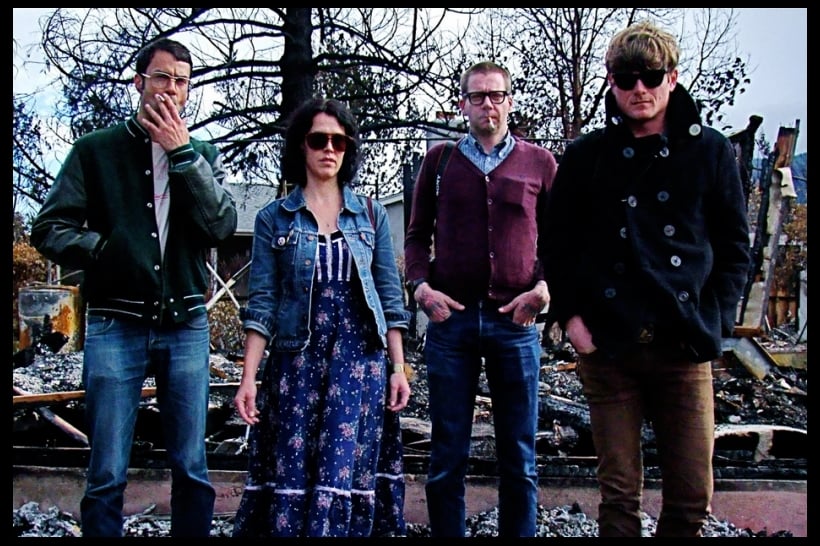 As the collection rounds itself out, it's still not without its' surprises. "Devil Again" sears with it fun, bluesy bounce that even comes equipped with the signature energized "Woo"-one of the truer representations of the Sees catalogue. The album closes down with the blistering "Block of Ice Live (At SF Eagle)" and Help's "Destroyed Fortress" busted up by a molten rendition of Floating Coffin's "No Spell." So, where does this place Singles Collection Volume 3 in the catalogue of craziness? Well, fans who aren't familiar with these releases are sure to pick this one up. Anyone looking into where to start might go for the singles collections. With its' curious imperfections and erratic moods show some comfort all without slipping into total expectation or boredom.
Key Tracks: "Burning Spear (Sonic Youth Cover)", "Devil Again", "Destroyed Fortress/No Spell Live (At Death By Audio)"
Artists With Similar Fire: Coachwhips / Pink & Brown / Ty Segall
Thee Oh Sees Website
Thee Oh Sees Facebook
Castle Face Records
-Reviewed by Christopher Tahy
Latest posts by Christopher Tahy
(see all)