Emerson Lake & Palmer


Live in Montreal 1977
Shout! Factory [2013]



Fire Note Says: Live in Montreal features ELP backed by a 70 piece orchestra on their Works tour!
Album Review: Emerson Lake and Palmer's 1977 tour was an ambitious undertaking, a failure on some levels, and an absolute triumph on other levels. The band originally set out with a full 70 piece orchestra to support their Works lp, but had to scrap the orchestra due to the cost involved. However, this live cd recorded on the Montreal stop on the tour, presents for the first time, a complete orchestra show in its entirety, and it's a doozy! The prog rock titans are right at the peak of their craft, this was before the disastrous Love Beach album all but destroyed the group (great album cover though), they are completely over the top with their arrangements, but it all works fabulously well.
The only thing holding this set back from a higher score is the muddy sound. It bounces back and forth between crystal clear and sub bootleg quality. Not sure what the deal is there, but it does hold back the set. On tracks like "Pictures at an Exhibition", the orchestra should take this thing over the top and really blow your head off when they kick in, instead it's murky and tough to hear. It doesn't quite get there for me. "Abaddon's Bolero" on the other hand sounds completely incredible. Every woodwind and every string can be heard clearly. It's a remarkable track! "Fanfare for the Common Man" is able to cut through the murk as well, particularly the horns in the beginning. It's one of their signature pieces that the group performs, and they do a great job on it here. Their two most popular songs on classic rock radio, "Karn Evil 9, First Impression Part 2" and "Lucky Man" are represented on the set as well. "Karn Evil" suffers incredibly because of the sound problems, but the acoustic rendering of "Lucky Man" fares a bit better, although it is almost drowned out by the audience's approving roar in spots. "Closer to Believing" is a perfect blend of orchestra and Greg Lake's acoustic balladering. It's a pretty stunning track.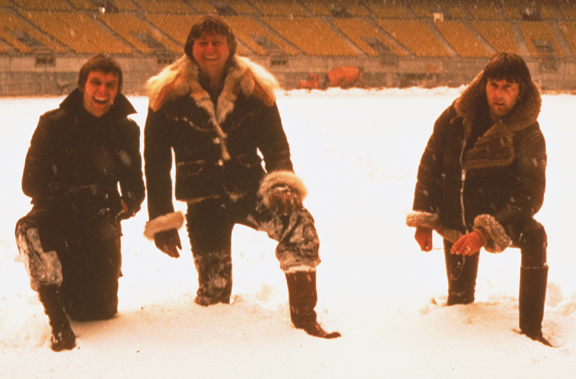 The important thing to keep in mind is that this is an archival release, presented to us warts and all. I'm glad it's out there, and most fans will be as well. What I would really love to hear would be beautiful completely restored and produced tapes of this date to appear, though I'm not sure if those exist. That would definitely be a 5 headphone reissue. Live in Montreal 1977 is a good representation of what had to have been an amazing night.
Key Tracks: "Abaddon's Bolero", "Closer to Believing", "Fanfare for the Common Man"
Artists With Similar Fire: Moody Blues / Genesis / King Crimson
Emerson Lake & Palmer Website
Emerson Lake & Palmer Facebook
Shout! Factory
-Reviewed by Kevin Poindexter
Latest posts by Kevin Poindexter
(see all)