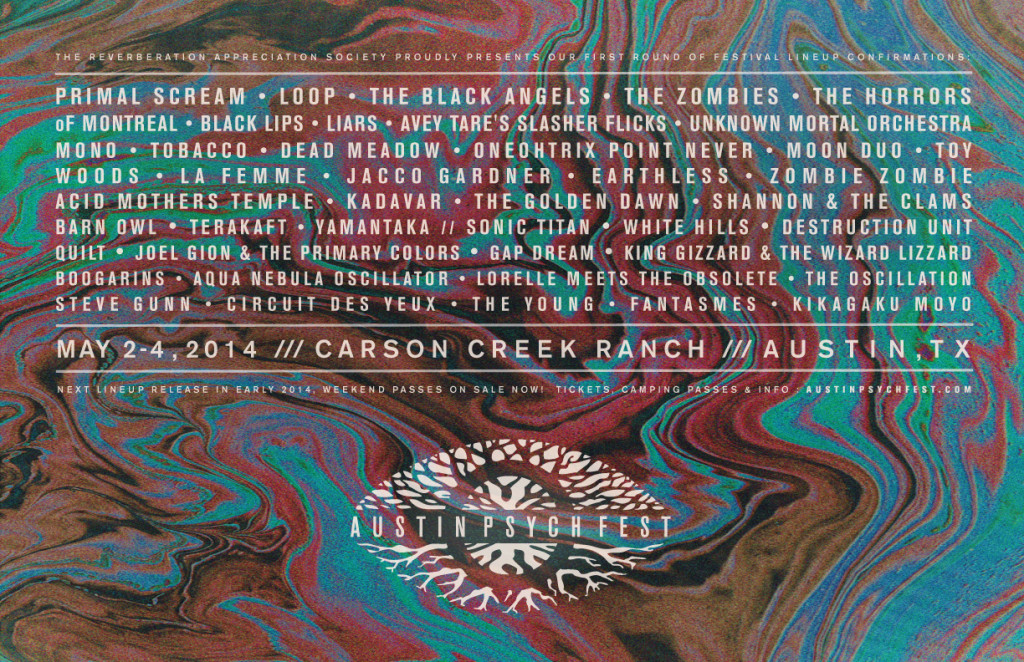 The Austin Psych Fest has announced its initial lineup for its 2014 installment, which spans five decades and six continents. The seventh annual festival will be held May 2 – 4, 2014, returning to Carson Creek Ranch, a scenic 58-acre ranch on the banks of the Colorado River, located just minutes from downtown Austin, TX.
Weekend passes, deluxe upgrades and camping passes are on sale now HERE. The initial line up for the festival is below.
PRIMAL SCREAM (UK)
LOOP (UK)
THE BLACK ANGELS (US)
THE ZOMBIES (UK)
OF MONTREAL (US)
THE HORRORS (UK)
BLACK LIPS (US)
AVEY TARE'S SLASHER FLICKS (US)
LIARS (US)
UNKNOWN MORTAL ORCHESTRA (US)
MONO (JP)
TOBACCO (US)
DEAD MEADOW (US)
ONEOHTRIX POINT NEVER (US)
MOON DUO (US)
TOY (UK)
WOODS (US)
LA FEMME (FR)
JACCO GARDNER (DK)
EARTHLESS (US)
ZOMBIE ZOMBIE (FR)
ACID MOTHERS TEMPLE (JP)
KADAVAR (DE)
SHANNON & THE CLAMS (US)
THE GOLDEN DAWN (US)
YAMANTAKA // SONIC TITAN (CA)
BARN OWL (US)
TERAKAFT (ML)
WHITE HILLS (US)
DESTRUCTION UNIT (US)
QUILT (US)
JOEL GION & THE PRIMARY COLORS (US)
GAP DREAM (US)
KING GIZZARD & THE WIZARD LIZARD (AU)
BOOGARINS (BR)
LORELLE MEETS THE OBSOLETE (MX)
AQUA NEBULA OSCILLATOR (FR)
THE OSCILLATION (UK)
STEVE GUNN (US)
CIRCUIT DES YEUX (US)
THE YOUNG (US)
FANTASMES (PR)
KIKAGAKU MOYO (JAP)
There will be another round of lineup announcements in early 2014. The festival schedule along with day tickets will be available closer to the festival.
Latest posts by Christopher Anthony
(see all)