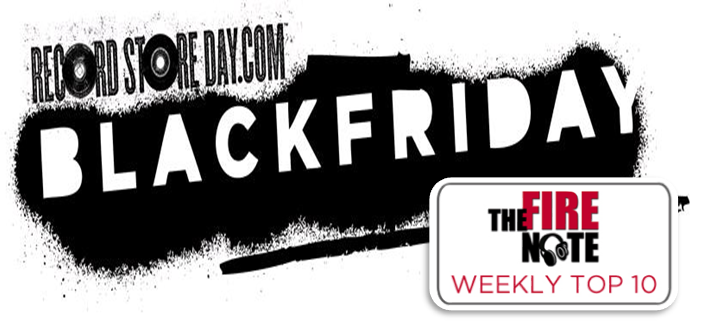 Black Friday was historically for all of those crazy early morning shoppers but Record Store Day has turned it into a limited vinyl collector's day. With that said, you already know that The Fire Note loves shiny round plastic so here are 10 Black Friday releases you might check out!
#10

Blind Boys Of Alabama/Jason Isbell & John Paul White


Christmas In Dixie/Old Flame 7"
Lightning Rod Records

You can find these tracks on the recently released Alabama Tribute record but here is your chance to have several of the best covers on the album in silver and white swirled vinyl.
#9

Low / Shearwater


Stay / Novacane 7"
Sub Pop Records

I always enjoy covers and especially when artists go outside of their swim lane. For this limited single we have a Low studio recording of Rhianna's "Stay" and Shearwater's offering of Frank Ocean's "Novacane." Also it is for a good cause as sales of this single will benefit Rock for Kids (www.rockforkids.org) on Low's behalf, and the Southern Poverty Law Center (www.splcenter.org/) from Shearwater.
#8

John Denver & The Muppets


A Christmas Together 12"
Windstar Records

This is a classic and first time on picture disc. Hipster or not, this is one record during the holidays that should be played at least once!
#7

The Surfaris


Wipe Out / Surfer Joe 7"
Sundazed Music

Who does not love the surf classic "Wipe Out?" Well Sundazed Music knows you do and this 7-inch from The Surfaris is a nice reminder of how it sounded in its original format.
#6

Mystical Weapons


Crotesque 12"
Northern Spy Records

This is Sean Lennon's improvisational collaboration with Deerhoof drummer Greg Saunier and projectionist Martha Colburn (not heard on recording, but accompanying video exists with her projections); and multi-instrumentalist Shahzad Ismaily. This is a very different listen but one that is also one of the more interesting releases this Black Friday. This release is a one-time pressing of 1,500 copies.
#5

Grateful Dead


Family Dog At The Great Highway 12"
Grateful Dead Productions

I respect the Grateful Dead but I have not really been a follower. With that out there, I think this live "Acoustic" show from 1970 is interesting because it's the Grateful Dead, but they weren't billed as the Dead. The show was actually promoted as Mickey Hart & the Heartbeats and Bobby Ace & the Cards from the Bottom of the Deck, giving the Dead complete freedom.
#4

The Upsetters


Super Ape 12"
Get On Down Records

I always like releases that offer up a bit of history to all the young collectors out there. The Upsetters were Lee "Scratch" Perry's house band and appeared on some of the most legendary records in reggae history, including the early hits of the Wailers. Super Ape is considered a true dub reggae classic and now it has been expanded to a double vinyl set that has an etched image of the Super Ape on side 4. Trust me – good stuff.
#3

Cheap Trick


The Classic Albums, 1977-79
Legacy Recordings

I know that all of these can be found much cheaper in the used bin but this vinyl box set includes 180-gram LPs of the first five Cheap Trick records: Cheap Trick, In Color, Heaven Tonight, At Budokan and Dream Police. The albums are remastered from the original analog tapes, packaged in original LP artwork and housed together in a newly designed, limited, numbered LP box. If you have not discovered early Cheap Trick – this is all you need!
#2

Billy Bragg & Wilco


Mermaid Avenue 12"
Nonesuch Records

This long out of print record is finally getting a well-deserved repress at 180g. The 2LP set is easily the best of the series and limited to 3000 copies. Wilco and Bragg at their best!
#1

Nirvana


In Utero 2013 Mix
Geffen Records

You may have heard this mix on the 20th Anniversary reissue of In Utero earlier this year but now you can check it out at 45 rpm speed and hear all the glorious highs and lows that vinyl provides. Interesting new artwork and a great record brings a more excited ear to the Steve Albini mix and remaster here as it is now on its own.
That is it for this week – enjoy your Thanksgiving and good luck in your search on Record Store Day!
-Feature by Christopher Anthony
Latest posts by Fire Note Staff
(see all)