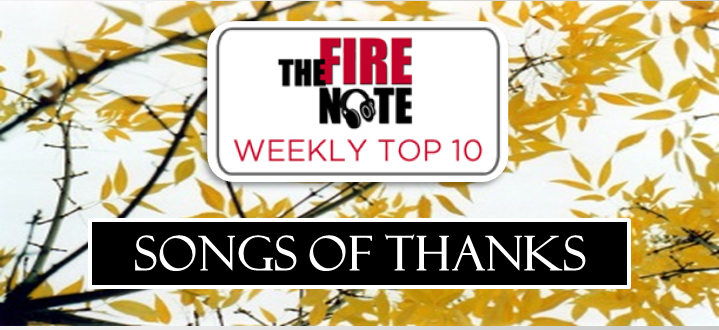 Next week we celebrate Thanksgiving so what better way to get ready for tons of food, football and family you may or may not want to hang out with! The Weekly Top 10 does just that with its Songs of Thanks – in their own special way!
#10
"Thanks"


Chatham County Line

You would probably think that the nice folk group Chatham County Line would have a sweet track to say thanks. This song has thanks in mind but in a totally different way as they sing "So honey thanks, thanks for making me crazy / Thanks for putting the light out in my eye."
#9
"Give Thanks And Praises"


Bad Brains

Here is the super rock entry into the top 10 with Bad Brains. Give thanks for these riffs!
#8
"Thanks A Lot"


Johnny Cash

Johnny had some issues (we all saw the movie) and this track finds him on the wrong side of the relationship. The feeling though is real because I think we all have been there and this song could be called "Thanks for Nothing!"
#7
"Thanks For The Boogie Ride"


Blues Jumpers

Do you remember when the swing genre had steam back in the late 90's. Well the Blues Jumpers had a record out in 97′ and covered this classic from composer Sidney Mitchell made famous by Gene Krupa and Anita O'day. It is a song that will keep you awake after the tryptophan from the turkey kicks in. Erin McKeown also has a more contemporary version that was out in 2007 that is not bad either. No Blues Jumpers audio available but enjoy the original.
#6
"Nothing Short Of Thankful"


The Avett Brothers

Here is a track that will always support your path. So when your aunt or in-laws start giving you a hard time about your career choice at the Thanksgiving table go find this track and it will instantly make you feel better!
#5
"I Wanna Thank You"


Sloan

Any chance I get to drop some Sloan on people I will. This track is a nice sing along as the song represents their usual catchy, melodic, and Beatles-esque sound. It is the perfect song as people leave back for their homes – "Goodbye, so long / See you sometime."
#4
"Thank God For Sinners"


Ty Segall

This will be the song I sing as I open the bottle of wine and make Thanksgiving a little merrier! I am fairly certain this song has nothing to do with Thanksgiving but damn it sounds good and remember as Ty says "In the morning I'll rise above."
#3
"Be Thankful For What You Got"


Yo La Tengo

Yo La Tengo's cover of William Edward DeVaughn Jr.'s 1974 hit "Be Thankful For What You Got" fits their laid back delivery and translates the song at a new level. It is simple, direct and seems like a good message to remember on Thanksgiving!
#2
"The Thanksgiving Filter"


Drive-By Truckers

Could anyone else deliver a Thanksgiving song better than the Drive-By Truckers? I like when Patterson Hood sings the lines "So put the food on the table and Papa says a blessing / They're cutting up some turkey and gobbling some dressing / My Aunt's praising Palin and my niece loves Obama / My uncle came to dinner wearing his pajamas." I think this sums up most family gatherings! This song has turned into a must play for me every year around this time.
#1
"The Thanksgiving Song"


Adam Sandler

Come on – you thought I was going to pull out the lost Nirvana Thanksgiving song! No way. This is the best Thanksgiving track of all genres! TFN hopes everyone has a great holiday next weekend. Also don't forget Record Store Day on Black Friday (hint for next week's top ten).

-Feature by Christopher Anthony
Latest posts by Christopher Anthony
(see all)